Don't Miss Disenchanted!
July 24 at 6:00 
For a special treat this summer, Moorpark College Theatre Arts Alumni are returning to work with our current students on a showcase production of the smash hit fairy tale parody Disenchanted!  Poisoned apples. Glass slippers. Who needs 'em?! Not Snow White and her posse of disenchanted princesses join together in the hilarious hit musical that's anything but Grimm. The original storybook heroines are none-too-happy with the way they've been portrayed in today's pop culture so they've tossed their tiaras and have come to life to set the record straight. Forget the princesses you think you know – these royal renegades are here to comically belt out the truth. Disenchanted! left its hilarious mark on the NYC stage with an 'Outstanding Off-Broadway Musical' nomination (Outer Critics Circle Awards) and 'Best New Off-Broadway Musical" nomination (Off Broadway Alliance). Caution: these fairy tales contain adult language and content.
"Disenchanted!" Book, Music, Lyrics by Dennis T. Giacino Developed with Fiely Matias.
Directed by MC Theatre Arts Alumni
Purchase advance tickets online at the PAC
$20 Adults
$15 Students & Seniors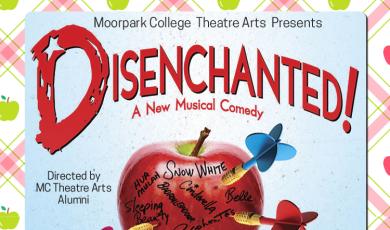 Location
Moorpark College - Performing Arts Center