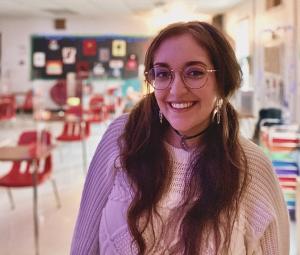 Written by Lauren Rosenthal, a Moorpark College student and student worker with the Ventura County Community College District.
Carmel Gutherz entered Moorpark College as a first-generation college student who was unsure of what career path she wanted to take, but certain that she wanted to continue her education. Now Carmel is a UC Berkeley graduate and a corps member of Teach for America, teaching AP English literature and inspiring students with her insight, dedication and love of learning.
Carmel chose Moorpark College for the quality education she knew she'd receive and because of the affordability. She was drawn to MC's inclusive atmosphere and commitment to meet each student's unique needs. Needless to say, she made the most of her time on campus before becoming a successful MC grad: Carmel served as an ASMC board member, the A.S. director of academic affairs and became an avid supporter of environmentalism.
"The philosophy of community college has profoundly impacted my understanding of education; there's nothing more equalizing in the space of higher education than the role of community colleges—a space for community members to pursue an excellent education that is made accessible through resources and services informed by the needs of the community," says Carmel, a first-generation American who saw the benefits of choosing a community college over a four-year one.
Before she enrolled at MC, Carmel struggled to maintain good grades and to find a viable path for the future. Her parents were unfamiliar with the U.S. college system, so she felt that her road to success was obstructed by obstacles that no one seemed to understand, not her teachers, peers, parents and or even herself.
Despite counselors who didn't consider her "college material" and her lack of finances, Carmel knew she wanted to go to college, to learn and continue her education.
"Not only did I feel inspired by my MC professors, I felt the need to really do something with that knowledge and perspective. … Moorpark taught me that enjoying learning can cause a chain reaction that includes the application of knowledge. To me, that is the highest form of learning I could only hope my students aspire to, and the kind of education everyone deserves to experience in their lifetime," affirms Carmel.
During her time in student government, Carmel secured six hydration stations for MC in an effort to reduce plastic waste and make the campus more sustainable. Her tenacity mixed with MC's myriad of opportunities made Carmel a pillar of academic success and student advocacy. She decided that her career would be devoted to ensuring other students receive the same opportunities MC presented her with.
Now in her second year as a corps member of Teach for America in the Dallas Fort-Worth Area, she uses her experiences to connect with her students and to help guide her future goals.
Carmel plans on returning to her roots in higher education and continuing to work where her skills, knowledge and philosophy will have the greatest impact.