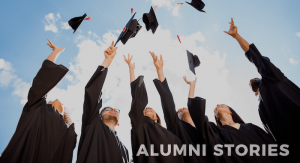 Sean Greene, Moorpark College Alumni
Photo Credit: photo by Moorpark College student Evan Reinhardt, co-editor-in-chief of the Student Voice newspaper
While a student at Moorpark College, Sean Greene set his goals of transferring to UCLA and becoming a journalist. He achieved both goals.
Greene is a data journalist covering science, the environment and medicine at the LA Times and is an alumnus of UCLA and the UC Berkeley Graduate School of Journalism. He also teaches Digital Storytelling (JOUR M15) at MC.
He chose to start his college education at MC so he could find a major and save money. "This decision allowed me to transfer to a better university than I could have attended right out of high school," he added.
Greene attended from 2007-2009 and spent his first year deciding whether to major in communications or psychology. (He chose psychology.)
"Looking back, my journalism career really began at Moorpark College," he said. Greene started working for the campus newspaper as the advertising manager during his first semester. He later became the Student Life editor and editor-in-chief.
"In two years, I learned about writing, reporting, editing, photography, video editing, and design–many of the skills needed at a traditional newspaper. Most importantly, I was able to get my work published."
While at MC, he also learned the importance of working as a team. "Editing and producing a student newspaper isn't a solo effort. People from all sorts of disciplines and backgrounds come together to produce something that can both inform a community and bring it together."
As an instructor, he loves the energy and enthusiasm students bring to their projects. Greene introduces students to new skills and tools that journalists use to tell stories online. Students of all majors can try out photojournalism, video production, podcasting, and even a little web design in the class. "It's fun to watch Moorpark College students tackle their projects, get feedback and improve. They're fearless," he said.
David Deutsch, Oxnard College Alumni
David Deutsch had a bachelor's degree in sociology and anthropology but he wanted to get into the field of addiction treatment. So he enrolled in classes at Oxnard College to get his certification in addictive disorders studies. It launched his career, leading him to work in the field of addiction treatment and get his master's of social work degree.
"My time at Oxnard College has shaped my entire career for the past 15 years," said Deutsch, who attended OC from 2004-2006.
Deutsch is a private practice therapist and teaches in the master's of social work programs for CSU Northridge and CSU Long Beach (a distance education program offered in Ventura). He also provides clinical supervision for multiple programs in Ventura County that work with people who have mental health and substance use disorder challenges. 
Additionally, he teaches in the addictive disorders studies program at OC. "I am very proud to teach for the program that started my career in the field," he said.
Beyond practical and academic knowledge gained as a student at OC, Deutsch learned "that by working hard at my studies I would be better equipped to serve people as a counselor. I also learned to be well organized in my approach to studying, which helped me learn at a higher level."
Maria de la luz Flores, Ventura College Alumni
Photo: Maria de la luz Flores with her mom, Maria Mejia, at the February VCCCD Board of Trustees meeting honoring Flores for receiving her tenure.
When Maria de la luz Flores was in high school, she participated in Upward Bound, a pre-collegiate program at Cal Lutheran University (CLU). As part of the program, she spent a summer at CLU and knew she wanted to earn a degree but couldn't decide on a major. 
After high school graduation in 1983, she enrolled at Ventura College but still didn't know what she wanted to major in. So she took a break from school, returning eight years later.
"Part of the reason I took so long to transfer was because I changed my major so many times. As a first-generation student, I didn't know anyone in my family or friends who had graduated from college. Also, I was working full-time because I was helping out at home," said Flores, who has been a bilingual academic counselor at Ventura College's East Campus for three years. Prior to that, she was the CalWORKS counselor/coordinator at Oxnard College.
When she re-enrolled at VC, she was working at CSU Northridge (an off-campus center on the Ventura campus). "This experience, along with the people I worked with, had a huge impact on me. When I returned to VC, I knew what I had to complete courses to transfer," she said, adding that she connected with great counselors at the school.
Flores transferred to CSUN in 1993 to earn her bachelor's degree in English. She later earned her master's degree in counseling, with a specialization in college counseling and student services, also from CSUN.
"My personal academic experience and my experience working at CSUN had a huge impact on deciding to pursue a counseling degree," she said. "While working at CSUN, students would go out of their way to meet with me. They were intimidated with the whole college experience and I knew how they felt."
In her position with VC East Campus, Flores enjoys that she can give students one-on-one attention and can help them because she can relate to their stories. "Definitely come to see the counselors on a regular basis," she said, "so that if you are experiencing any kind of stress then you have someone to reach out to. We were students once and we know what you're going through."