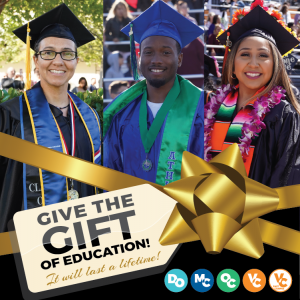 Moorpark, Oxnard and Ventura College foundations support our diverse student populations with scholarships that make a high-quality college education affordable. Each year, hundreds of students who never thought college was attainable can pursue their dreams of a degree or certificate, thanks to Foundation scholarships. You can make a difference in students' lives by donating to one or more of our colleges' Foundations. 
Mark your calendar for #GivingTuesday on Dec. 1, when you can join people locally and globally as they participate in the Global Generosity Movement.
Here is what our foundations have been working on lately.
The Moorpark College Foundation was on the move this summer! The Foundation made great progress on many fronts for students. In conjunction with the efforts of Kathy Kraas of K2 Consulting Group, the MC Foundation launched its Annual Campaign on October 3. 
The Foundation hired Alicia Hoffman as a Foundation Coordinator, secured a new contact management database, added Tim Holland and Paul Aguilar as new board members, and created a Career Education Job Ready - Alumni Forum. The first discussion features MC's highly acclaimed Nursing program https://www.moorparkcollege.edu/community/foundation/mc-foundation-job-ready-alumni-forums.
The Foundation also generated a Case for Support for its Annual Campaign, and is focusing on Scholarships, The Rising Scholars Program and the Basic Needs Center.
The end of 2020 promises to be an active time as the Foundation continues to serve the students of Moorpark College.
The Oxnard College Foundation worked tirelessly throughout the summer to provide support to campus development, scholarships, educational programs, and other college needs to ensure student success and academic excellence.
Over the summer, the Foundation partnered with Academic Senate, Classified Senate, and Associated Student Government to launch the Student Support Fund Campaign. Many students are facing disproportionate hardships brought on by the COVID-19 crisis--students are struggling with technology deficiencies, food insecurities, lost wages, and homelessness. The campaign aims to help alleviate these issues and offer advocacy. The goal for the campaign is $100,000 with the Foundation contributing the first $10,000 to jumpstart the effort, up to an additional $20,000.
The campaign has raised over $21,984.00 and applications will be reviewed as the committee continues the fundraising effort to help Oxnard College students.
For more info, visit: https://www.oxnardcollege.edu/college-information/foundation/covid-19-emergency-student-support-fund
The Oxnard College Foundation also elected a new board president, Mike Barber. Not only is he the organizer of the Santa to the Sea Marathon, which has had successful community influence, he also provides 40 to 50 scholarships to our students each year, up to $500 for each student. Mike brings his professional expertise from the nonprofit sector as a benefit to the board.
The Ventura College Foundation backs several programs that are designed to provide both direct and indirect support for Ventura College students. More than 400 scholarships are available to Ventura College students who are ready and able to benefit from the financial support, via the single Ventura College Foundation Scholarship Application. Scholarships are designed to enable and encourage students to achieve their goals. 
Paramedic Scholarship: Applications are now open through Nov. 10, 2020. General Scholarship: Applications are now open through Jan. 15, 2021. To be considered for any Ventura College Foundation Scholarship, including a Phoenix Scholarship, students can access more info: https://venturacollegefoundation.org/scholarships/ or TEXT: AHOY to 41444 to join the Foundation's Student Program Newsletter with the latest information.