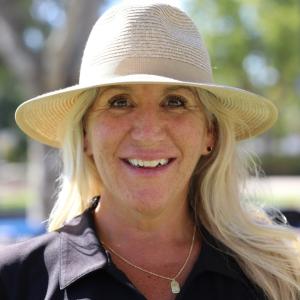 Moorpark College employee's impact extends beyond Zoo.
What began as a summer job at America's Teaching Zoo at Moorpark College has evolved into a 30-year adventure for Zoo Development Coordinator Mara Rodriguez.
"In 1992, I started my career at the Zoo. I established the Junior Safari Summer Camp and was the one and only counselor that first year of camp," Mara says. "They hired me the week after graduating from the Exotic Animal Training and Management [EATM] program. When summer camp ended, I transitioned into working as a zoo instructional aide."
Her devotion to the Zoo and the college's EATM program have earned Mara a dual honor: She has been named Ventura County Community College District 2022 Classified Employee of the Year and Moorpark College's.
"A lot of people think it is crazy that I have worked here my whole life," she says. I think it's crazy too, and I love it!"
Her career flourished, and Mara continued to accomplish professional goals. Six years after earning her associate degree, she became a lab technician, working closely with some of the Zoo's more famous four-legged inhabitants, including Ira the Lion and Bengal tigers Neil and Karma.
"My work as an animal trainer fulfilled my own dreams and allowed me to help our students fulfill theirs. I have literally grown up here. I always laugh that I've grown old here with Clarence the tortoise."  
Two years ago, Mara began her most recent role, where she raises funds for the Zoo and its animals. Her coworkers admire her enduring commitment to the Zoo's mission, animals, high standards and others.
"I have always loved serving people as much as serving animals in my career," Mara says. "As I transition to the next phase of my career past animal training, I see my desire to serve the community, as well as the animals, by creating a more modern Zoo that everyone can enjoy and be proud of."
She believes her personal relationships as well as her encounters with animals will benefit her in her job. These interactions—coupled with her innate curiosity—clearly drive her success.
"Everything interests me. I love all the details," she says. "So, when I meet someone or learn something, I ask a million questions because I truly enjoy diving into another individual's experiences.
In one single day at this job, I met a Holocaust survivor who celebrated his 92nd birthday here, fed a tiger, did an interview for a newspaper and then ended the day laughing with my coworkers in the office."
Her colleagues and her work's creative aspects also inspire her to prevail and bring her immense gratification.
"I find the creativity and teamwork the most rewarding. It's easy for people to complain that they have too much to do, but I have been able to take 'too much to do' and blossom that negative mindset into 'what crazy cool thing can we make happen?' The entire team at the Zoo is like that. Every single coworker in this office is game-day ready every single day."