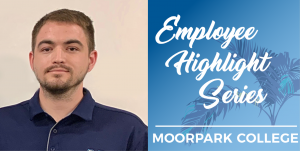 Written By Lauren Rosenthal
Lauren Rosenthal is a Moorpark College student and intern with the Ventura County Community College District.
Matthew Spinneberg is the Alternate Media Specialist at Moorpark College, where he is motivated by upholding two significant values: accessibility and equity. He focuses on students' needs, educating instructors on accessibility and how to utilize assistive technology for their students, and using his expert skill to allow course material to be friendly to everyone.
Honored as the college's 2020 Classified Employee of the Year, Matthew also provides accessibility training for employees and advises the District on accessibility matters in a professional expert role.
Matthew, who is legally blind, had wanted to work in the film industry and participate in media production. As a student at Moorpark College, he became a communications major. "I learned that communication is very important for individuals with disabilities. I transitioned into digital accessibility and disability advocacy through my personal experience using assistive technology and working with students and their hardships."
He quickly took a student-staff position working with other disabled students in the Student Access Program. After a few years DJing and working part-time with the district, Matthew accepted a full-time job at MC in 2016.
To Matthew, accessibility is a way of life. He says it is "effective communication… everyone sees the ramp to a building as an option, but if there wasn't a ramp, you'd be communicating to the public that you can't get into that place if you can't walk." He believes that to solve problems, one must put themselves in other's shoes to truly understand them. He considers what it's like to have the disabilities of his students and tries to understand what the most beneficial options are.
His greatest challenge is "changing the culture, to get the people who are in the culture to be inclusive, understanding, and patient." He helps instructors see that their teaching style could be more powerful if they understood their students' diverse perspectives and how inaccessible material dampens disabled students' determination to learn.
With the help of a coworker, he encouraged the district to initiate the creation of MP3 versions of standard PDFs or PowerPoint files, promoting equity for students who have trouble reading. One of the most rewarding aspects of his job, he said, is the positive feedback from instructors who previously believed accessibility changes were challenging but now, with his help, understand that providing accessibility is both simple and essential for students.
"There's always something to learn," said Matthew of his job's rewards. "It's all about communication and how to talk to people who don't quite understand. You don't give up on them. I learned to be patient."