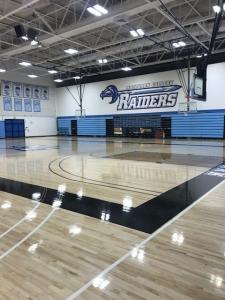 Moorpark, Calif. (January 10, 2020) –
Moorpark College will host a ribbon-cutting ceremony on Jan. 25 to celebrate the college's $18 million renovation of the Raider Sports Pavilion. The celebration continues as the Moorpark College men's basketball team faces off against Cuesta College. During the game, the college will pay tribute to one of its most successful men's basketball championship teams and former star player TK Reed.
This project marks the first significant renovation since the gymnasium was first constructed in 1967. It includes new locker rooms and an Athletic Training Clinic, as well as space for various sports teams, athletic equipment and weights. The renovated building is now fully air conditioned and features a new fitness studio and center, and additional office space for the Athletic Department's staff. Many of the building's new multi-use spaces include a smart design, providing student athletes with state-of-the-art technology to enhance their education and athletic training. A separate 4,000-square-foot Field House was added near the gymnasium as well.
"We are excited to celebrate this major renovation project with our community," shared Dr. Julius Sokenu, Interim President of Moorpark College. "Our modernized Raider Sports Pavilion will enhance the learning experiences and opportunities for Moorpark College's talented student athletes, as well as those students enrolled in our kinesiology courses."
The event will begin at 2 p.m. with tours of the new gym and a reception. The men's basketball game will begin at 3 p.m. The gymnasium is located on the Moorpark College campus, 7075 Campus Road, Moorpark. This event is free and open to the public.
During the game, Moorpark College's current and former basketball players will recognize the 20th anniversary of its 2000 and 2001 Western State Conference championship team. This team was one of the most successful men's basketball teams in the college's history. Additionally, the college will retire the jersey of former player TK Reed, who helped lead the team to victory 20 years ago. After attending Moorpark College, Reed transferred to Cal State San Bernardino, where he led that school's basketball team to two championships. He later became a successful basketball coach in Riverside before passing away in 2015.