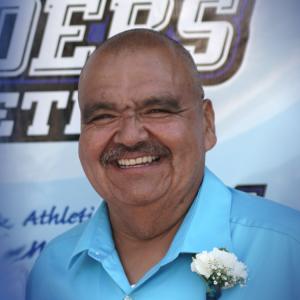 During his 39 years as the athletic equipment manager at Moorpark College, Thomas "Tommy" Arellano has earned a reputation as the mastermind behind many thriving department programs and successes. In recognition of his dedication to the college, Tommy was named Moorpark College's 2021 Classified Employee of the Year.
It was the early 1980s when Tommy first considered taking on the role of athletic equipment manager. He was a student manager at Ventura College when the athletic equipment manager was dismissed in the middle of football season. Tommy and another student were asked to take over.
"At the time I wanted to stay in school to get my degree in business, so I stepped aside and let the other manager take over. When it came time to apply for the post, the Moorpark job became open and when I interviewed for the VC job, I was told whoever didn't get it would go to Moorpark. The rest is history," says Tommy, who attributes his longevity at MC to a natural instinct for serving students and others in the department.
Tommy was just 19 years old when he accepted the MC position, leaving behind life as a student to start his career. Being a former high school football player, the position held a great deal of interest for him. He enjoyed the challenge of it.
Over the years, Tommy's talents have shown themselves to be seemingly limitless. He has a knack for building strong, long-lasting relationships with students and staff. Tommy's equipment room has long been the first stop for returning athlete alumni eager to check on him and tell him about their lives post-MC.
"What I find most rewarding is watching the student athletes compete on this level, move on and compete at the next level, get their undergrad and master's degrees and become successful--and knowing I had a part in that."
As social media began to take hold, Tommy quickly adapted to the different platforms, keeping student-athletes and alumni connected to the athletic department and the college. The athletic department's social media presence proved pivotal to the success of the department's Hall of Fame inductions, fundraisers, team reunions and the gymnasium re-dedication.
"We are sixth in the California Community College Athletic Association when it comes to social media exposure," remarks Tommy. "When the pandemic hit, it became essential to keep athletes updated on any COVID-related news. We use social media to promote athletics, the athletes (incoming, current and alumni), and to make pertinent announcements ranging from registration, financial aid, counseling, upcoming games and results. Athletes love seeing game pictures and their names on social media."
Tommy also hosts most of the athletic department's community activities, including high school and youth football, youth track, adult baseball and softball, field hockey and more. The Ventura County community knows Tommy for his generosity, helpfulness and enthusiasm for MC.