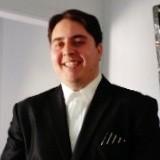 Finding his specialty as a scientist
Since his teen years, Waheed Akberzie has appreciated the life sciences, but when he enrolled at Moorpark College, he was unsure of what branch he would pursue in biology. A specific course changed that and allowed him discover his niche—biotechnology.
"When I took my first course in biotech, it was like, 'Oh, this feels right,'" says Waheed. "That professor, Dr. Subhash Karkare, was so inspirational. I never was really quite inspired by medicine, but then I saw this new world of biologics and how you can really connect in with people's immune system, and everything changed."
Studying under Dr. Karkare, Waheed found his affinity with the applied science of biotechnology at the age of 19. He admits his professor influenced his career direction as a scientist, which can have a profound impact on the health and well-being of humankind through treatments and cures.
"Dr. Karkare is an amazing professor and very good at teaching. He would discuss biotech concepts and how they are applied to practical matters. I didn't know about biotech, but the material was fascinating."
Waheed praises Dr. Karkare and other Moorpark College professors for the attention they gave to him and his peers, noting their focus remains on student success, not research or publishing papers.
"I know people who went to universities, where they hardly spent any time with their professors," he says. "If you're struggling with your classes, the professors at Moorpark will help you."
After graduating from Moorpark College with an associate degree in biotechnology, Waheed went on to earn his bachelor's degree in in biology with a minor in chemistry from Cal State University Channel Islands. He then expanded his scientific knowledge completing coursework in clinical trials, medical devices and drug development at University of California Irvine Division of Continuing Education.
In his job as a clinical trials management associate at Gilead Sciences, Waheed is accountable for ensuring studies are completed on time and assists his colleagues with documentation and planning clinical trials. Waheed commends Moorpark College for teaching him the skills he uses daily.
"I use the vast majority of what I studied at Moorpark," he says. "Statistics are super important as is physiology and the different regulations I learned. Even philosophy is critical as there are sometimes decisions where you ask, 'Is this stance moral?'"
Through one philosophy of government course he took at Moorpark College in 2011, Waheed met his wife, Lily, whom he married in 2019.
Waheed admits that he chose to attend Moorpark College for two reasons: its cost and his uncertainty about his major.
"I graduated without debt. That gave me a huge competitive advantage in the workforce and in other parts of life. If you're sure what you want to study, go to a four-year university; if you're not, Moorpark gives you the flexibility to figure it out," he says. "It's a great local resource."