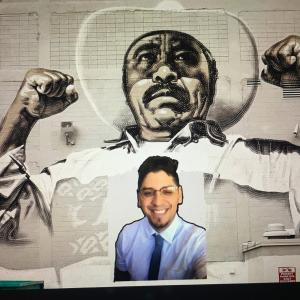 Coming Home to Oxnard College
When Edgar Gonzalez enrolled in Oxnard College's Fire Academy everything opened up for him. A first-generation college student, he now serves as the college's COVID-19 Contact Tracer and Triage. He's using the skills he gained as a student at OC and at UC Davis, where he graduated with a degree in neurobiology, physiology and behavior.
Edgar now plans to pursue a medical degree and is currently applying to schools across the country with the goal of becoming an emergency room physician. Yet working in the ER was never a childhood dream.
"My path to college was not a clear one," says Edgar, who earned five associate degrees from Oxnard College—fire technology, chemistry, biology, natural science and social sciences. "I worked in high school and didn't apply to college until I was 19 or 20 years old."
Taking courses in the Fire Academy and other classes in emergency medical services piqued his interest in academics and eventually emergency medicine. "That opened up all these avenues. I started liking biology. I started liking science. I started collecting information and loved the aspect of learning."
Persistence and fortitude resulted from his studies. "It was a good growth experience. I learned a lot about myself and how much I could handle," Edgar says of his scholarly endeavors.
What Edgar enjoyed most about his experience at Oxnard College was his interactions with staff and students. He counts OC staffers Yong Ma and Justin Miller, Dr. Deanna McFadden and Captain Michael Ketaily among the many mentors who propelled him forward.
"I remember that my organic chemistry teacher Miss Ma taught me about discipline in an academic setting. Professor Miller also instilled that. That discipline is what prepared me for the UC system."
McFadden, who's the Student Health Center Coordinator, taught Edgar about hospital setting interactions. As a health scholar at St. John's Regional Medical Center in Oxnard, he applied the knowledge he gained from McFadden to communicate with older adults and to de-escalate situations with people who were using illegal substances.
Edgar considers Ketaily, who chairs the Oxnard College Fire Technology department, a father figure.
"Captain Ketaily teaches a course about the interview process, which has helped me academically and professionally. It's a holistic approach where you match your life and work experiences to a job description. I remember him telling me to use my toolbox, which has given me confidence in school and work."
"They say it takes a village to raise a son; it really does. I can't thank them enough."
For those at Oxnard College lacking assurance in their studies or career options, Edgar encourages them to connect with their peers and college faculty.
"For any student who is struggling, it's possible to get through," he says. "Just reach out. You have your college community. You have mentors. Nothing is an end-all situation."