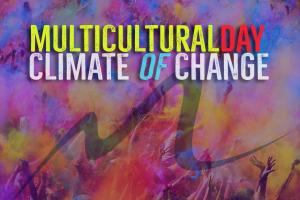 Multicultural Day 
Tuesday, April 13, 2021
This year's Multicultural Day will be all online! Consider being a part of this exciting day by presenting on a topic that reflects the theme: Climate of Change. 
What does this mean to the Humanities? To Science? To the Social Sciences? How are things changing in Technology? In Math? In the Arts? In Medicine? How is the climate of our campus changing?
A Call for Proposals will be sent out soon!
See our website for all things multicultural and recordings of Zoom events this year: 
This year is like no other year to date. So, in keeping in stride, our Multicultural "Day" will be a virtual online salon style presentation of student, staff and community contributions. We WILL have a virtual Multicultural Day on April 13, 2021. The day will feature videos and break-out MCD sessions that students and staff can choose from.
Student Contest
The Multicultural Day Committee is soliciting submissions for this year's theme, Climate of Change, as a banner/poster design and theme logo. We want student contributions!  This is a Design contest, with cash prizes:
We are inviting submissions for a virtual banner header. 
Designs submitted should be 3000 X 1800 pixels (minimum).
PRIZES: First place $200. Second place $100. Third place $50. All submissions will be displayed online.
We are also inviting submissions for this year's logo. 
An icon that will be used for social media, and as CTA block on our MC Homepage. files and be at least 1500 X 1500 pixels in size
ALL Artwork should be submitted as a PDF, JPG, AI, or PSD file. 
Deadline for submissions is November 15, 2020 Submissions should be sent to Dina Pielaet, MC Marketing, Communications and Web Design Coordinator.