ADDITIONAL EVENT INFO
I Can See Clearly 2020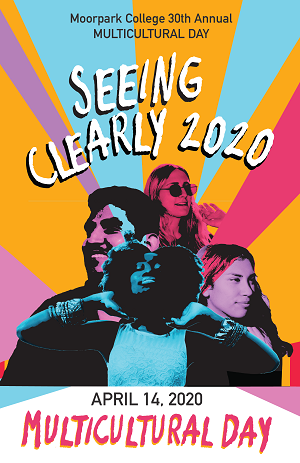 THE EVENT THAT WAS CANCELED, DUE TO COVID-19.
Celebrate 30 years of growth as a college and an inclusive community at the annual Multicultural Day, which will be held on Tuesday, April 14, 2020. Our theme is Seeing Clearly: 2020.
The annual alternative day of instruction was scheduled to features insightful lectures, breathtaking performances, amazing exhibits, thought-provoking presentations, exciting demonstrations, energetic panel discussions, experiential exercises, innovative storytelling, inspiring music, rhythmic dance, dramatic theater, and hands-on activities. All of this is coupled with informational, educational, and merchant booths from local and international organizations, and appetizing food offerings.
Multicultural Day is organized as an alternative teaching day. Some faculty may allow students to attend several of the events in lieu of attending their regular classes. Classes are not canceled, however, and some regular class meetings must be held due to academic program requirements. Local K-12 schools, as well as nearby colleges, are invited to bring their students to see and hear music, dance, drama and lectures. Admission to Multicultural Day is ALWAYS free, and all events are open to the public.
| | |
| --- | --- |
| Seeing eternity: Visions of Faith | Seeing the future: Science and Technology |
| Seeing the community: Politics of the Future | Seeing expressions of humanity: Art and Culture |
| Seeing many shades: Race and Ethnicity | Seeing our multiple identities: Gender and Sexuality |
| Seeing our strengths through the lens of Disability Justice | Seeing the world: International Perspectives |



 
Visiting Moorpark College
THE CAMPUS IS CLOSED. However, Multicultural Day takes place in a variety of classroom, lecture, stage, and outdoor settings across campus. Please see the "Program" section of this page for room or venue assignments for specific presenters or performers.
Moorpark College is located at 7075 Campus Road in Moorpark, CA, just off the 118 Ronald Reagan Freeway. Visit the Moorpark College website's Directions, Maps and Transportation page for more details on how to navigate to the campus.
Please note that parking passes are required in all of campus's parking lots. Visitor parking passes cost $2/day and can be purchased at any of the parking permit kiosks throughout campus via cash, credit, or debit card.

Merchandise
Information about Multicultural Day 2022 merchandise forthcoming. Please contact Tamarra Coleman at tcolemanhill@vcccd.edu with immediate questions.

Program
Information about Multicultural Day 2022 Program and Schedule of Events forthcoming. Please check back in April 2022. MCD Day 2021 will be a virtual event and will stay online until April 2022.

Scholarship Opportunities
Current Moorpark College students are encouraged to apply to the following Multicultural Day-related scholarship opportunities.
 
The Ranford Hopkins and Cynthia Barnett Multicultural Day Scholarship ($500): 
This scholarship seeks to recognize a student who has engaged in multicultural or diversity-related activities or endeavors within the last two years. To apply, students must:
Minimum GPA: 3.0
Continuing at MC or transferring to a 4-year college/university fall 2020
Additional essay required on "your involvement in multicultural or diversity related activities or endeavors within the last two years."
Two letters of recommendation required
 
Honors Program Academic Poster Scholarship Competition (3 awards from $100—$250):
Students are encouraged to create a 4' x 8' poster highlighting a topic they have researched to share the results with the community. To apply, students must:
Create a 4' x 8' poster around a research topic that you choose to pursue
Must be currently enrolled at Moorpark College
Sponsored by MC Honors Program and Multicultural Day Planning Committee, but need not be in an Honors course or member of the Honors Program to participate
See scholarship flyer for more information
 
To apply:
Students can apply for either of the aforementioned scholarships by visiting the Moorpark College Scholarship Application Website and logging in with their school ID.