Honoring Heritage & Contribution
September 15 to October 15 is celebrated nationwide as National Hispanic Heritage Month. At Moorpark College, we refer to it as LatinX Heritage Month. It traditionally honors the cultures and contributions of both Hispanic and Latino Americans as we celebrate heritage rooted in all Latin American countries. During this month and throughout the year, we, campus-wide, share history, heritage, and accomplishments of Hispanic and Latino Americans of past and present.
A Rich Culture at Moorpark College
Staff and students make up a large percentage of our overall Moorpark College family. And we are proud of our richness of culture not just in recognition of the month, but year round. Join us at the events we have planned in September, October and year-round. Let's Celebrate Latina/o/x/Hispanic Heritage together!
Hispanic refers to a person who is from, or a descendant of someone who is from, a Spanish-speaking country.
Latino/a or Latinx refers to a person who is from, or a descendant of someone who is from, a country in Latin America.

SEPTEMBER 18
10am-11:15 am
Celebrating Latin X Heritage Month and Constitution Day! 
Please join Patty Colman and Crystal Salas as we explore American citizenship, rights, and belonging.
Administration Building Lobby
SEPTEMBER 20
1am-1pm
LATINX HERITAGE MONTH KICKOFF EVENT
Campus Latinx Celebración! 
Folklorico Dance, Music, Food, booths, and Fun!
QUAD
September 11 – October 13, 2023
The Moorpark College Art Gallery is pleased to present
John Galan En Mis Suenos (In My Dreams)
Moorpark College alumni, John Galan's work follows in the surrealist tradition of one of the most well-known and recognizable Mexican artists, Frida Kahlo. Conceptually, he pulls from his own experience as a Mexican-American, challenging bi-cultural and generational stigmas.
Admin Building Art Gallery
September 21 
6pm - 7pm 
John Galan Art Reception
Admin Building Art Gallery
September 26 - Rescheduled to November
1pm - 2pm 
Mixteco Indigena Community Organizing Project
California is home to an estimated 170,000 indigenous migrants from the Mexican states of Oaxaca, Guerrero, and Michoacán, including Mixtecs, Zapotecs, and Purépechas. These indigenous populations face unique challenges as they often only speak their native pre-Hispanic indigenous languages.
OCTOBER 2
10am-11:30am 
Yesika Salgado: Performance Poet
Yesika Salgado is a Los Angeles based Salvadoran poet who writes about her family, her culture, her city, and her fat body. Salgado is a two-time National Poetry Slam finalist and the recipient of the 2020 International Latino Book Award in Poetry.
PA100 Black Box Theater 
OCTOBER 9
11:30am - 12:30pm
Elisa Valdez: Graphic Designer and Owner of CHINGONA VIDA
Elisa Valdez has 15 years of experience in marketing, advertising, and graphic design. She is currently the lead project manager for Eat. Sleep. Work., Inc. with a specialization in packaging and advertising design. She has previous experience with Slant Productions, Mattel, and One Eighteen Advertising. Her strengths include strong problem solving and leadership skills, conceptualizing for the bigger picture and having a well balanced knowledge of design standards. Elisa takes great pride in producing effective solutions and communicating a message that will create a movement. As a designer, she finds value in providing the "aha" moment for her clients that she manages. Elisa is a graduate of University of Texas at Austin as well as The Art Institute of California. Within the past two years, Elisa has embarked on a new journey of opening up her own business called Chingona Vida - a LatinX Lifestyle Brand. Every piece for sale is curated, inspired and crated for the love of her culture and her passion to share her Latina roots.
Click here for Zoom Link:
OCTOBER 17
1:30pm-2:30pm
Finale event featuring Author Rafael Agustin 
Rafael will give a talk to our students about his experiences as an undocumented student, author, screenplay writer and discussion about his life and book, Illegally Yours. 
PAC Main Stage
USAW WEEK KEYNOTE SPEAKER
Javier Zamora: Oct 19 @12PM
Moorpark College is proud to announce a Zoom webinar featuring author Javier Zamora on October 19th at 12:00pm with a discussion of his personal memoir "SOLITO." This one hour long event will be held on Zoom and is free to the public with online registration and is part of Undocumented Student Action Week.
Javier Zamora was born in La Herradura, El Salvador in 1990. When he was a year old, his father fled El Salvador due to the US-funded Salvadoran Civil War (1980-1992). His mother followed her husband's footsteps in 1995 when Javier was about to turn five. Zamora was left at the care of his grandparents who helped raise him until he migrated to the US when he was nine. His first poetry collection, Unaccompanied (Copper Canyon Press, September 2017), explores some of these themes.
In his debut memoir, SOLITO (Hogarth, September 2022), Javier retells his nine-week odyssey across Guatemala, Mexico, and eventually through the Sonoran Desert. He travelled unaccompanied by boat, bus, and foot. After a coyote abandoned his group in Oaxaca, Javier managed to make it to Arizona with the aid of other migrants.
Zamora was a 2018-2019 Radcliffe Fellow at Harvard University and holds fellowships from CantoMundo, Colgate University (Olive B. O'Connor), MacDowell, Macondo, the National Endowment for the Arts, Poetry Foundation (Ruth Lilly), Stanford University (Stegner), and Yaddo. He is the recipient of a 2017 Lannan Literary Fellowship, the 2017 Narrative Prize, and the 2016 Barnes & Noble Writer for Writers Award for his work in the Undocupoets Campaign.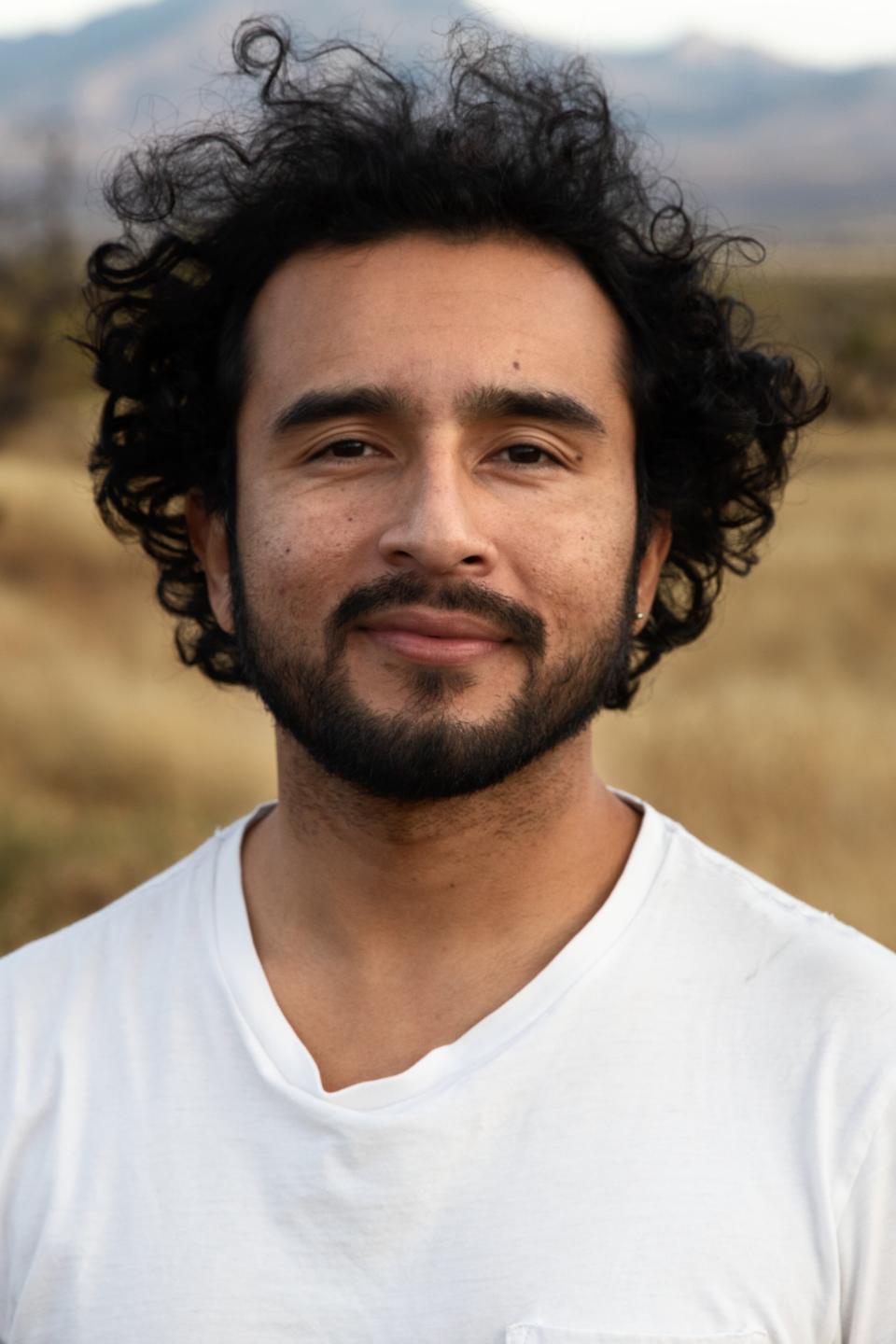 Classified Senate Presents
Dr. Victor Rios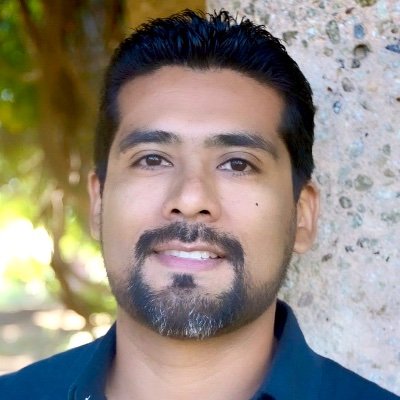 September 13, 2022
1:00 PM – 2:00 PM
Dr. Victor Rios is MacArthur Foundation Chair and Professor of Sociology at the University of California, Santa Barbara. He received his Ph.D. at the University of California Berkeley in 2005. Professor Rios has worked with local school districts to develop programs for students who have been left behind in their education. Using his personal experience of living on the streets, dropping out of school, and being incarcerated as a juvenile—along with his research findings—he has developed interventions for marginalized students aimed at promoting personal transformation and civic engagement. These programs have been implemented in many schools across the United States; juvenile detention facilities; and alternative high schools. He is also the author of six books including, My Teacher Believes in Me: The Educator's Guide to At-Promise Students (2019); Street Life: Poverty, Gangs, and a Ph.D. (2011); Buscando Vida, Encontrando Éxito: La Fuerza de La Cultura Latina en la Educación (2016); and Human Targets: Schools, Police, and the Criminalization of Latino Youth (2017).
Dr. Rios has been featured in the Chronicle of Higher Education, Ted Talks, the Oprah Winfrey Network, Primer Impacto, and National Public Radio. He has had the honor of meeting President Obama and advising his administration on gun violence and policing. His Ted Talk "Help for kids the education system ignores" has garnered over 1.6 Million views. He is the subject of the documentary film The Pushouts (thepushouts.com)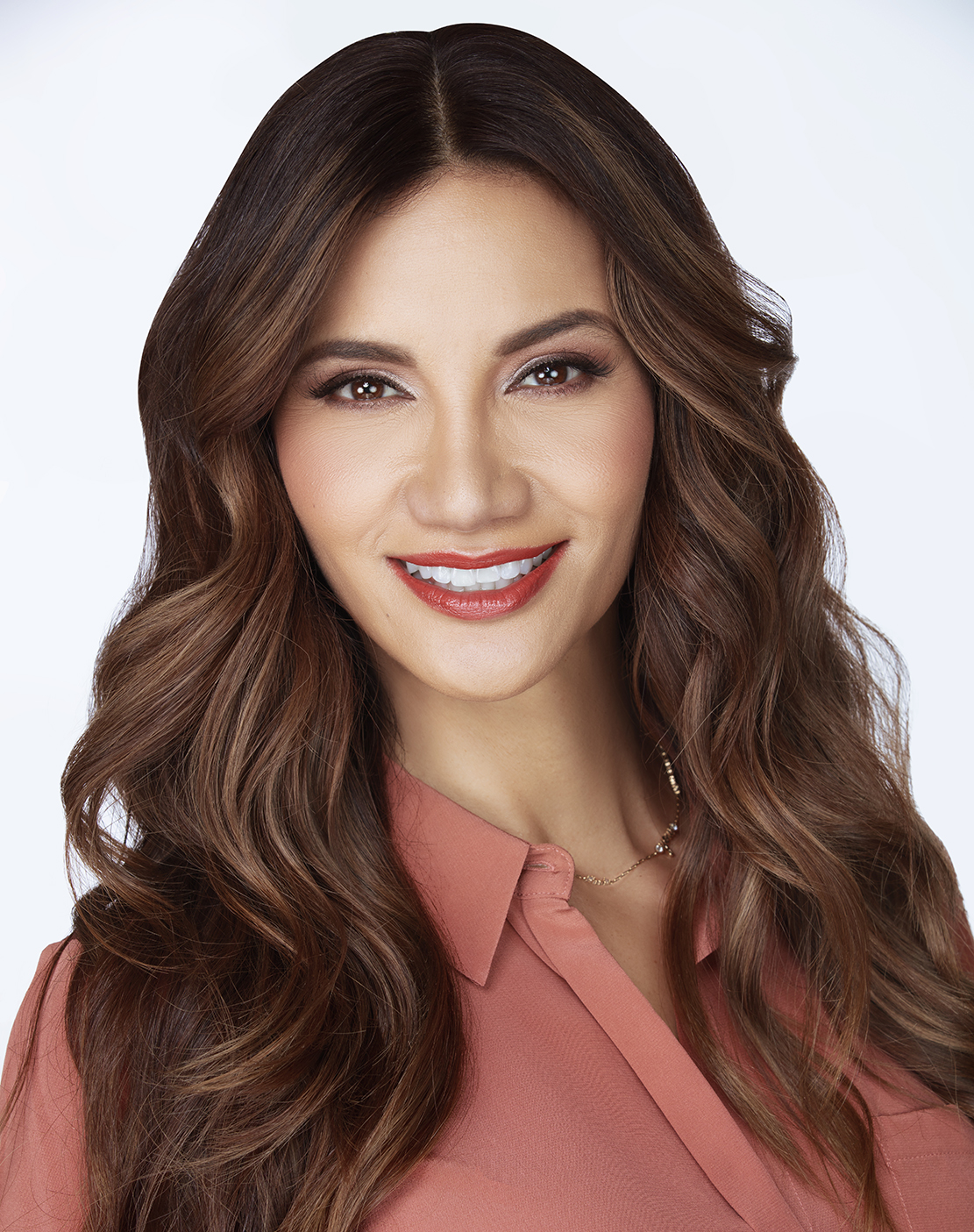 Argelia Atilano
Monday, September 19 from 3:30-5:00 pm.
This will be an on-campus at the Forum/and ZOOM event. All are welcome. 
Our esteemed guest is a dynamic combination of beauty, playfulness, and talent. Her incredible personality has made her one of the most beloved Latina broadcasters in the radio and television industry for the last two decades. Argelia Atilano made her first debut as an author with her husband Omar Velasco with the title Amor Al Aire, which provided insight into their own challenge of balancing marriage, a family, and a radio show. It was during the pandemic that she found the inspiration and courage to publish her first bilingual children's book Grandes Dreamers, proudly highlighting not one, two, or three, but a dozen Latina leaders who deserve to be mentioned, included and celebrated for their valuable contributions and legacy as part of American history. Argelia, who was born in Chicago and raised between Mexico and East Los Angeles, had an incredible twenty-year successful career at Univision Radio. After taking a short break in her career, she recently started an exciting new chapter together with her husband Omar Velasco, and now you can listen to her every morning in her new home on Mega 96.3 FM via La Musica App. 
Grandes Dreamers: https://www.grandesdreamers.com/
Mega 96.3 FM: https://www.lamusica.com/podcasts/omar-y-argelia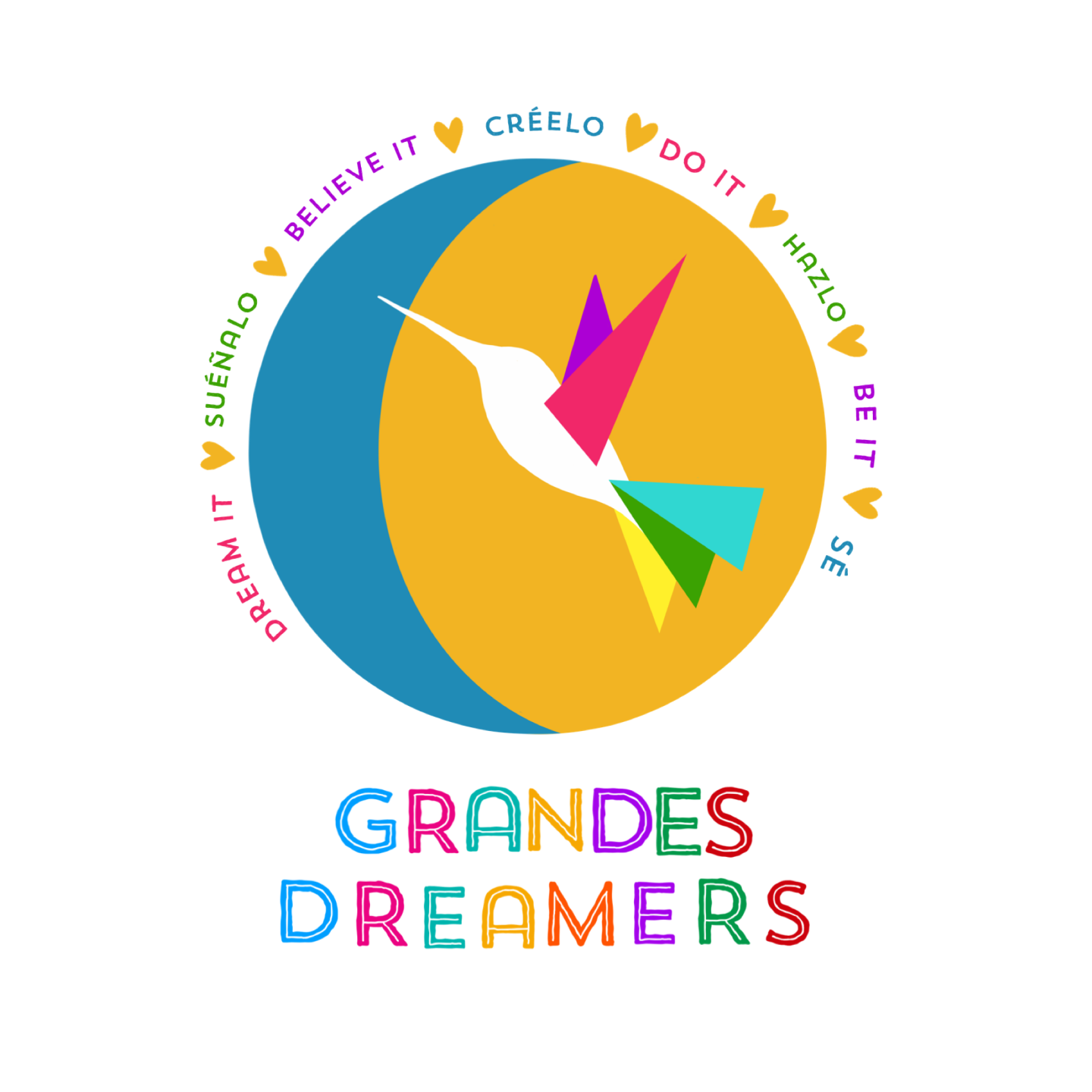 HERITAGE KICKOFF EVENT
September 20, 2022
10am-2pm
on campus Latinx Celebracion!
Ballet Folklorico
Quad Stage: 12:30-1:15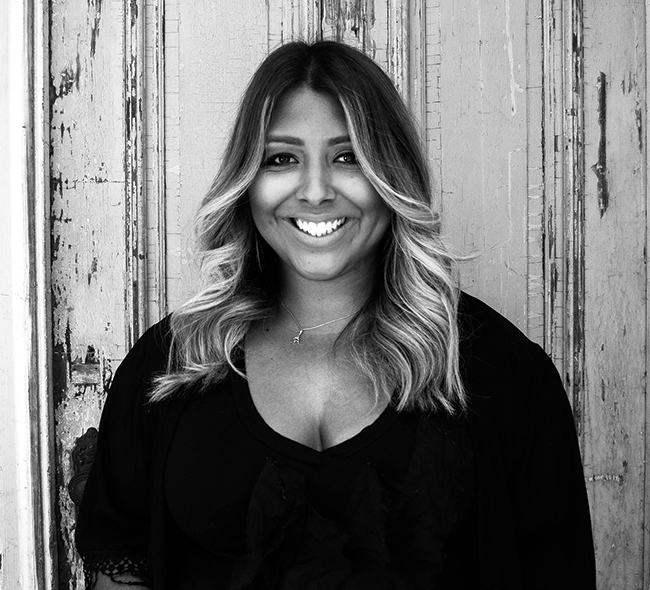 Ilessa Valdez Chingona Live inc.
Graphic design artist
Forum: 3:30 to 4:30PM
Creativity is not a talent. It's a way of LIVING.
Born and raised in El Paso, Texas - I was the second of my family to graduate from college. I attended the University of Texas at Austin and received a degree in Early Childhood Development with a minor in Educational Psychology. As graduation approached, I was recruited by the New York Department of Education and hired on to teach in East New York, Brooklyn. After a year of working in NYC, I discovered that although I enjoyed teaching, it was not my destiny. I reflected on what I would tell my elementary students – never settle, always do something that you love and have passion for and most importantly, to follow their dreams. At the age 28, I became a college student for the second time and enrolled for another bachelor's degree. I studied graphic design and fell in love with being a creator.
Today, I work in the creative industry and absolutely love what I do. I take great pride in producing effective solutions and communicating a message that will create a movement. I also believe that creating an effective campaign is not only a business, but it's a voice that builds relationships. As a creative, I find value in providing the "aha" moment in each of my projects. This to me is one of the most rewarding parts of the process because everything starts to connect and fall into place. Early in my career, I gained insightful experience working on projects ranging from conceptualizing ideas, to producing in-home and out-of-home advertising campaigns, increasing brand awareness and implementing marketing objectives. Furthermore, I have designed and created promotional/marketing merchandise for major film and television studios. My background includes a wide range of knowledge, taking projects from concept to completion across all platforms and materials.
Working as a creative for many years in the industry led me to soul search yet again and motivated me to start my own business. At the age of 39, I launched Chingona Vida (chingonavida.com insta: @chingonavida) – a business inspired and created for the love of my culture and my passion to share my Latina roots. I wanted to bring to life everything that made me happy, strong, outspoken, and most importantly, create art that was relatable. My grandparents raised me to be a chingona – defined as a badass woman who empowers, inspires, and leads. My dreams are to grow this business and to one day be able to give back and provide scholarships to students going off to college.
Hererra Brothers: Music Workshop
September 22, 2022
Forum: 1PM
Hermanos Herrera have established themselves as the future of Regional Mexican music. They are a family group consisting of five brothers and their younger sister. The group plays various styles of traditional Mexican music such as Son Huasteco, Son Jarocho, and musica Norteña. Hermanos Herrera have shared their music with a broad audience, performing throughout the U.S. and Mexico. They have performed at world-renowned venues alongside the biggest names in the music industry and have appeared on numerous national and international television programs. They have shared the stage with; Los Tigres del Norte, Mariachi Los Camperos de Nati Cano, Linda Ronstadt, Conjunto Primavera, Los Lobos, Intocable, Julieta Venegas, Ozomatli, Jose Feliciano, Montez de Durango, and Banda el Recodo, among countless other artists.
SCHEDULED FOR OCTOBER
Mujeres de Maiz
October 5, 2022
10AM-11:15AM
Black Box Theater
A grassroots organizations created by a collective of Chicana and Latina local activists. Led by their E.D Felicia Montes, the org focuses on empowering Chicana Latina women through the arts, cultural traditions, and educational leadership programs. Their mission is to bring together diverse women and girls through the creation of community space and healing. 
CARECEN-LA
October 6, 2022 
10AM-11:15AM CCCR
The Central American Resource Center-Los Angeles (CARECEN-LA) is a grassroots organization that advocates for immigrant rights in Central American and Latinx communities. The org directly works with different immigrant rights campaigns such as the TPS campaign, Dreamers networks to name a few. Recently CARECEN-LA is working with the growing population of unaccompanied minors that are arriving from Central America and Mexico. For example, they are working with local high schools to help teachers and counselors on how to better serve this population.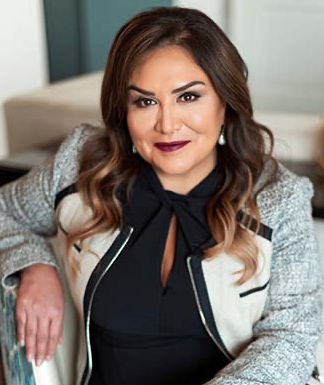 Judith Sanchez Lopez
Jafra International
October 12, 2022
1PM-3PM: Forum
We are excited to invite Judith Sanchez Lopez, senior vice president general manager from Jafra USA and a member of our School of Management Advisory Council, to our Latinx Heritage month series of speakers. Judith is an international leader with more than 28 years in the beauty and cosmetics industry. She is a visionary with a strategic mindset and a focus on developing high-potential teams to achieve results and ensure business profit and growth. She has deep experience in launching and driving business growth in a variety of LATAM countries, South America, the USA and Asia.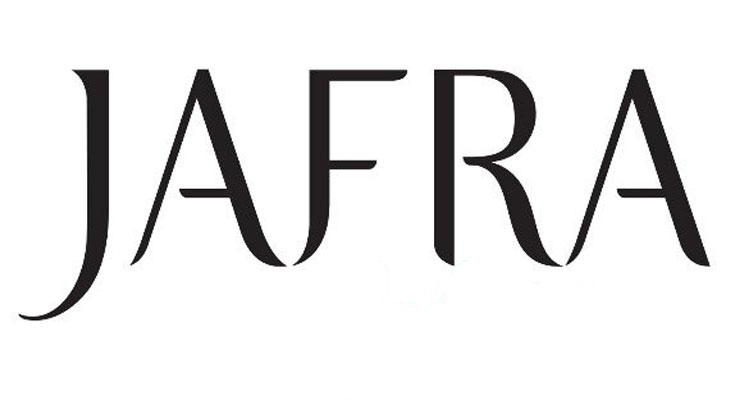 SEPTEMBER 15
3:30pm-4:30pm 
Opening Remarks
Opening Video: Celebrating Heritage 
Opening Session: Chicano Studies at Moorpark College 
A dialogue about the Chicano Studies program with professors, Arturo Zepeda and Jorge Herrera and guests.
SEPTEMBER 22
1:00pm-2:00pm  
Our Voices Matter! Latinx Students Speak 
Current and former student panelists discuss their experience @ Moorpark College and share their stories in a very special moderated event.
Register Here
SEPTEMBER 27
4:00pm-5:30pm  
Latinas Leading the Way
From foster youth to Acting California Community College Chancellor, Dr. Daisy Gonzales. Presenter: Dr. Daisy Gonzales, Acting State Chancellor. A dynamic team of Hispanic/LatinX woman discuss matters of the heart, family history and leadership in higher education. Join Dr. Daisy Gonzalez, CCC Acting Chancellor, Marty Alvarado & Lizette Navarette, CCC Vice Chancellor of College Finance and Facilities Planning.  Register Here.
Moderators: Dean Monica Garcia and Dr. Farisa Morales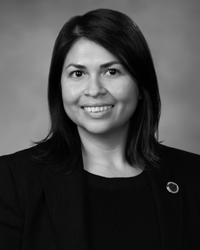 SEPTEMBER 30
3:00pm-4:15pm 
Author Dr. Alice Baumgartner 
A History professor @USC, Dr. Baumgartner discusses her book, South to Freedom:
Runaway Slaves to Mexico and the Road to Civil War.
This will be a moderator-led discussion. Alice L. Baumgartner is assistant professor of history at the University of Southern California. She received an MPhil in history from Oxford, where she was a Rhodes scholar, and a PhD in history from Yale University. She lives in Los Angeles, California. Register here.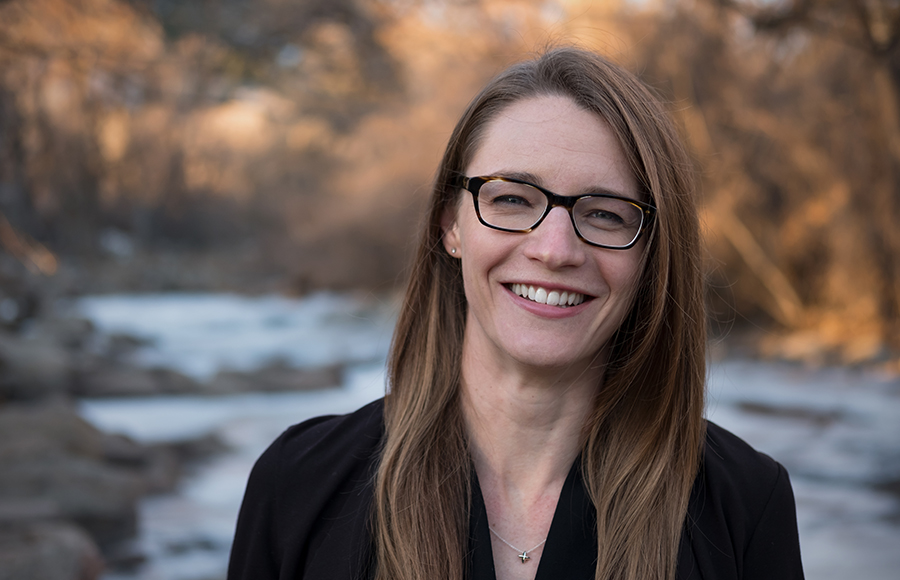 OCTOBER 4
3:00pm-4:30pm 
Women in Higher Education 
Breaking through the adobe ceiling. Presenters: Dr. Cynthia Olivo, Vice President of Student Services at Pasadena City College and the founder of CCColegas. CCCOLEGAS – Latinx Organization for California Community College Professionals and Dr. Margaret Quiñonez-Perez Board of Trustee for Santa Monica Community College. Register Here.
Moderators: Dean Monica Garcia and Dr. Farisa Morales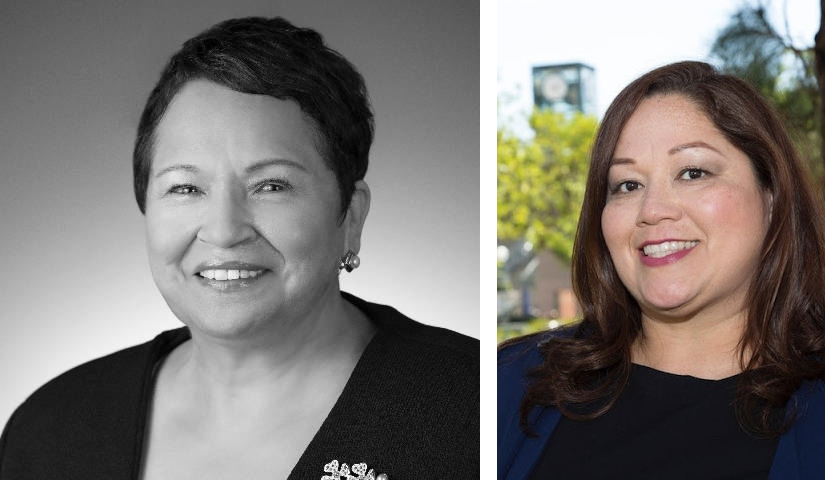 OCTOBER 15
10:00am-2:00pm
LatinX Finale 
A Day with Arturo Sandoval, Grammy Award winning musician!
A master class, a lecture and more on Campus with students and guests. More details to follow.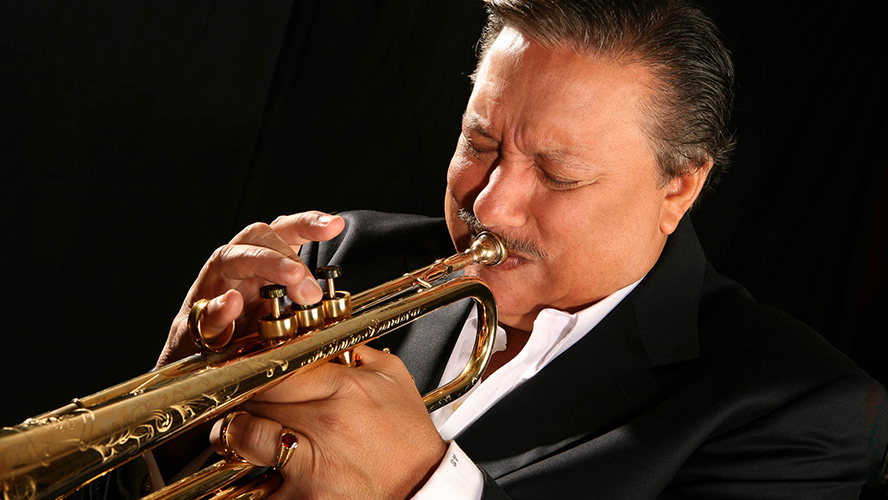 Saul Flores 
Occurred on Wednesday, October 14 at 5:30pm.
A highly attended and fantastic virtual presentation (pronounced sah–ool), is a philanthropist, photojournalist, and speaker who is nationally recognized for his social impact projects. Through his most recent project, Saul documents the amazing lives of thousands of Latin American immigrants to fundraise for an elementary school in his mother's hometown. His work has been featured on National Public Radio, MSNBC, and TEDX. Additionally, Saul has been featured as a keynote speaker for dozens of universities, inspiring audiences through his visual presentations, in which he helps people realize the capacity of their immense human potential given times of extreme adversity.
Saul walked 5,328 miles through ten countries to document how grueling and dangerous the journey of immigrants to the United States can be and to raise money for an elementary school in Atencingo, Mexico. The story of his journey, accompanied by a series of photographs, capture the essence of the people, communities, and cultures he encountered along the way. We hope to see you there!
The Associated Students of Moorpark College and the Latinx Club invite you to experience the recording of this event for the next 30 days:
WATCH RECORDED PRESENTATION NOW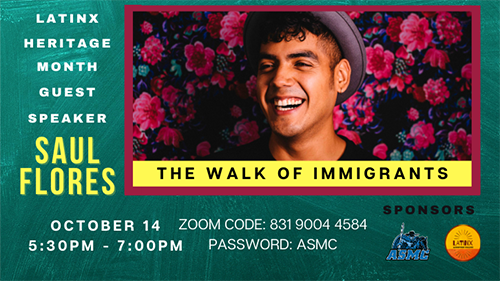 Dr.Martin Alberto Gonzalez- Local Author
Occurred on October 6, 2020. 5:30-7:00pm 
Dr. Martín Alberto Gonzalez is regularly invited to K-12 schools and universities/colleges as a motivational speaker, and even has a TEDx talk titled, "Boxnard," which is available on YouTube. He is an awardee of various prestigious awards, including the Ford Foundation Fellowship and the Most Outstanding Graduating Senior at California State University, Northridge. In addition to sharing his message about the importance of telling stories, specifically counter-stories, Dr. Gonzalez read stories from his social justice-based book, "21 Miles of Scenic Beauty...and Oxnard." His presentation was described by the many teachers and students present as "inspirational," "thought-provoking, very engaging," and "life changing."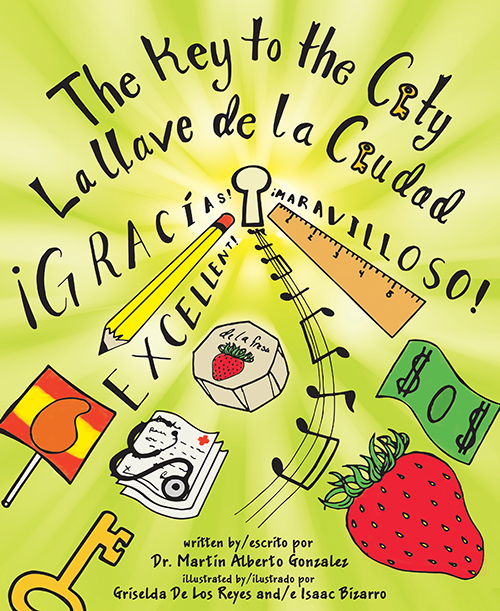 COVID-19 & THE LATINX COMMUNITY 
Occurred on October 7, 2020 from 3:00PM – 4:00PM
There is increasing evidence that the Latinx community is being disproportionately affected by COVID-19. Many Joined us for this online webinar as our special guest panelist, GAGAN PAWAR, M.D. Chief Medical Officer of Clinicas del Camino Real, Inc., presented relevant information and insights about the realities of COVID-19 in our communities.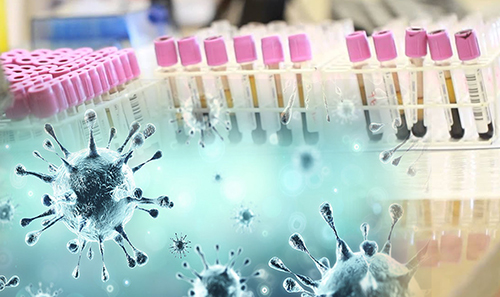 Hispanic/Latino/LatinX Identity Labels:
An Examination of Cultural Values and Personal Experiences
Happened on September 22, 2020. Recording will be posted soon.
An open discussion was led by Dr. Thomas Avila Carrasco Professor Department of American Ethnic Studies, Santa Barbara City College, along with Marnie Melendez, Josepha Baca, Maria Thayer and Nicole Bicakci  (ASMC) with faculty, staff and students in our Moorpark College Community about the labels used to define us.  Discussion included questions like; Are these terms inclusive? Derogatory? Politically motivated? Do they help to unite or divide the Latinx community?  What is the history of the labels we use to define us? The event had many participants and we will be posting a recording as soon as it is available.

EVERY VOICE MATTERS!
SUBMIT YOUR STUDENT WORK 
We want to feature Student work in our virtual space with art and media for Latinx Heritage Month (September 15-October 15). AND all of our online Virtual Multicultural day activities throughout the year. We are interested in creative digital submissions that reflect the beauty and diversity of Latinx people and culture and social justice. We are also interested in YOUR voice and expression for the virtual site to come!
ESSAYS & POETRY 
Word Doc, PDF, Email
SPOKEN WORD
Loud clear audio recording as MP3 audio file sent via Email
PHOTO OR ART
JPEG, PDF
VIDEO
1920 X 1080 horizontal format as MOV or MP4 file
Ask us about TEE SHIRTS!
In an effort to show off our support for LatinX Heritage month at Moorpark College, we are making Tee-Shirts in collaboration with Clare Sadnik and her wonderful students @MakerSpace. Find out more by emailing Clare: csadnik@vcccd.edu