CABARET - Auditions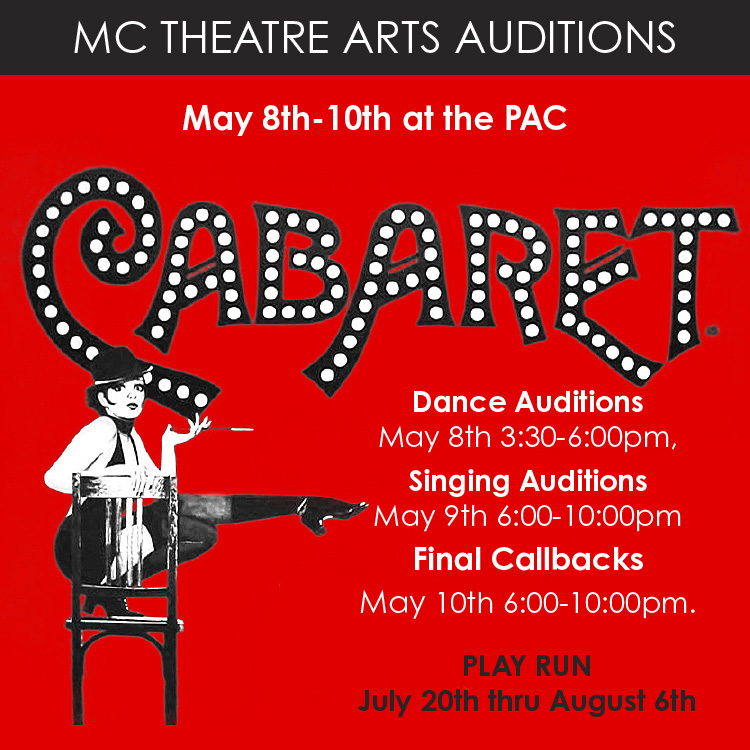 Hello everyone,
First of all, thanks to all that auditioned.  As much as I enjoy the audition process and working with you individually, I always dislike having to choose between you.  We had close to 90 people audition and, as always, we had to make some very difficult choices. 
I mean it when I say that we could have cast this play 15 different ways and still had an excellent cast each way!  If you were called back for the role, it means that we believed you could play it in this production.  I want to encourage you all to keep coming back.  We've seen tremendous growth in those that have returned and you get better each time you audition.   
A few notes before the cast list:
We honored the requests of those that limited the roles that they would accept.

If you are cast, you MUST be enrolled in the THA M10A, B, C or D class by 6/1/23 if you are to keep your role.  The CRNs are 58391, 58392, 58393, 58394. 

COSTUME MEASUREMENTS: Expect and email from Orly Ruiz, or Costume Designer, sometime in the next week to set an appointment

We will be having a READ THROUGH of the play on Thursday 6/8/23 in PA-100 @ 6:00pm

I hope to be sending out a rough draft of the rehearsal schedule this weekend.  Please align it with your work schedule ASAP.

I'm trying to expedite the script delivery and hope to have those on hand next week.  I will be in touch on that. 

START LISTENING TO THE 1998 CAST ALBUM NOW!
https://youtu.be/x5D4wBK9pvA  and please start practicing this dialect NOW.
Thank you all again for an AWESOME job!
John, Nancy, Beth and Dave
CABARET CAST LIST 
CHARACTER NAME            ACTOR 
Clifford Bradshaw              24 Guillermo Castro
                                              40 Hunter Uliasz 
Sally Bowles                        4 Callie Harman
                                              47 Ophilia Hamze 
Emcee                                  21 Max Oliver
                                              15 Romina Khodaverdy 
Herr Schultz                        63 Jonathan Martinez
                                              52 Ricky Meza                      
Ernst Ludwig                       2 Tal Toker 
Fraulein Kost                       17 Marina Wagner
                                               22 Lacey Tuell 
Fraulein Schneider             35 Ashley Gilmore
                                               78 Ashley Zone 
Max                                       
Tomorrow Singer               45 Aubrey Sutherland                                            
Swing/Dance Captain 

 19 Samantha Longtin 

 

Kit Kat Women 

10 Ella Bowen 

9 Ximena Gutierrez
33 Crysta King  

11 Carlie Wright 

30 Rachel Fischer 

37 Briana Sanchez Gonzalez 

Kit Kat Men 

27 Aiden Ainsworth 
20 Christopher Smith
55 Cesar Gonzalez
67 Reginald Whigham

 

             

 

Town Folks/Soldiers 

 65 Dashel Jeffords 

51 Andrew Perez 

25 Neil Davies 

74 Natalia Valentina Varas 

1 Clair Jiao 

53 Tae Bond 
CABARET CALLBACKS
Hello everyone,
Thanks for the amazing audition sessions.  We had over 80 people audition for this summer show and we couldn't have been happier wit the turn out.  Once again the talent at Moorpark College continues to amaze us! 
As discussed at auditions last night, if you are not on this list it doesn't necessarily mean that you will not be cast in the play.  We have a very limited time available to us tonight and we can only see so many people.  If you are on the list for callbacks for a particular role, please practice the song listed in BOLD under each character name.  We will sing through those songs from approximately 7:30pm – 9:00pm and then go into reading mode for the leads. 
Dancers, please arrive at 5:30-6:00 to refresh the dance and learn the music for the Dance callback with Nancy and Beth.
New people will sing at 5:30-6:00 and be worked into the Dance audition when there is time.
Everyone is welcome and encouraged to attend the callbacks and we will be reading for principal roles sometime around 9:00-9:30pm.  As we read from the script, I will be looking for any type of appropriate accents, but that is not required.  This play calls for distinct, well-defined characters and I will be looking for people that stand out as unique and interesting/entertaining with strong voices and physical comedic skills.
Thank you all for your patience, talent and interest in this show.  It will be a TON of fun and I can't wait to get started this summer!
See you tonight,
John, Nancy, Beth and Dave
5:30 – 7:00pm
DANCERS
 GROUP 1
4 Callie Harman

5 Taylor Bass

6 Anna Belle Sanders

8 Aspen Roos

9 Ximena Gutierrez

10 Ella Boring

11 Carlie Wright

12 Luna Aguilar

13 Isa Rojas

15 Romina Khodaverdy

16 Jocelyne Daugherty

18 Garret Wilson

19 Samantha Longtin

20 Christopher Smith

21 Max Oliver

22 LaceyTuell

26 Bryanna Gregory

27 Aiden Ainsworth

28 Jennifer Kelly

29 Angelina Buz

30 Rachel Fischer

31 Ruby Lundberg

33 Crysta King

37 Briana Sanchez Gonzalez

39 Karly Elyse

44 Kaelin Dyet

49 Tanner Goldberg

50 Sophia Jester

53 Tae Bond

55 Cesar Gonzalez

57 Samantha Kealey

58 Maica Guevarra

66 Eliza King

70 Izellah Sanchez

73 Valerie Morales

75 Jeth Logrono

76 Nicky Carabajal

83 Annie Sherman

GROUP 2
12 Luna Aguilar

20 Christopher Smith

24 Guillermo Castro

43 Indiana Aluisi

46 Ariana Semsarha

47 Ophilia Hamze

48 Maiya Mendoza

51 Andrew Perez

52 Ricky Meza

59 Keymi Guillen

63 Jonathan Martinez

65 Dash Jeffords

67 Reginald Whigham

70 Izellah Sanchez
7:00 – 10:00pm
SALLY

Cabaret(end)

30 Rachel Fischer

39 Karly Elyse

4 Callie Harman

10 Ella Bowen

5 Taylor Bass

11 Carlie Wright
12 Luna Aguilar

13 Isa Rojas

15 Romina Khodaverdy

19 Samantha Longtin

28 Jennifer Kelly

33 Crysta King

47 Ophilia Hamze

70 Izellah Sanchez

72 Mae Cohen

Frau Schneider

 Married(duet)

78 Ashley Zone

6 Anna Belle Sanders

8 Aspen Roos

16 Jocelyne Daugherty

22 Lacey Tuell

34 Erin Baxter

35 Ashley Gilmore

42 Faith Payuan

45 Aubrey Sutherland

68 Jesstina Torees
73 Valerie Morales

74 Natalia Valentina Varas

53 Tae Bond

EMCEE

Two Ladies

18 Garrett Wilson

20 Christopher Smith

24 Guillermo Castro

27 Aiden Ainsworth

49 Tanner Goldberg
65 Dashel Jeffords

67 Reginald Whigham

77 Jules Patrick

CLIFF

Tomorrow Belongs

25 Neil Davies

27 Aiden Ainsworth

40 Hunter Uliasz

51 Andrew Perez

52 Ricky Meza

65 Dashel Jeffords

Herr Schultz

Married

2 Tal Toker

7 Nefthaly Perez

63 Jonathan Martinez

60 Kurt Stiernelof

81 Nithish Blessington

Frau Kost

17 Marina Wagner

23 Rachel Ahern

26 Bryanna Gregory

31 Ruby Lundberg

37 Briana Sanchez Gonzalez

56 Keymie Guillen

59 Xanthus Swanson

Ernst

41 Levi Hammond

81 Nithish Blessington

2 Tal Toker

7 Nefthaly Perez

63 Jonathan Martinez

60 Kurt Stiernelof

81 Nithish Blessington