Choral & Vocal Program Faculty and Staff
The Moorpark College Choral & Vocal Program has a world-class faculty devoted to student success.  Faculty are active in the field as professional musicians and bring that experience into the classrooms and lessons every day.  Learn more about our MCCV faculty below.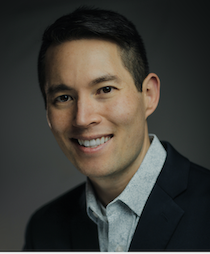 Brandon Elliott believes that music changes lives and serves as our greatest living metaphor for unity and harmony. This belief is central to his professional career as Associate Professor at Moorpark College and Founder of the Choral Arts Initiative. 
Through the Choral Arts Initiative, he provides opportunities for composers all over the world to have their works performed, bringing stimulating choral performances to local and virtual audiences. 
As the Founding Executive Director, Brandon ensures the stability and success of the organization, and as the Artistic Director, he implements the creative vision by curating performance programs, commissioning new music, sourcing new, fantastic talent, and conducting performances.
As the Director of Choral & Vocal Activities and Associate Professor of Music at Moorpark College, Brandon serves as a guide to students as they grow personally and professionally, providing mentorship, education, and encouragement. 
Choosing a career in music is choosing a career with many obstacles to success. Brandon's ability to overcome these obstacles is testament to his passion, persistence, and focused determination. He challenges preconceived ideas and explores new approaches, and in doing so, helps his students forge their own paths and reach their goals.
Learning is a partnership; whether he's conducting, teaching a class, or advising a student, Brandon engages with open and honest conversation and collaboration so everyone can all learn and grow. While he does believe music can change the world, he also believes internal systemic change must happen to address critical inefficiencies and inequalities. Brandon is driven to be part of that change, providing equitable opportunities for everyone to engage with, and be impacted by, music. 
Ultimately, Brandon's vision is to inspire a more unified and harmonious world by spreading empathy and human connection through this form of artistic expression. 
Career Highlights:
• Billboard-charting producer and director. In 2017, Choral Arts Initiative released its first album, ranking 6th on the Billboard Charts and 4th on iTunes for New Classical Releases, and it was a #1 best seller the week of the release. 
• Winner of ASCAP/Chorus America Award for Adventurous Programming in 2017.
• Winner of the American Prize in Choral Performance from The American Prize Foundation in 2014.
• Finalist for the American Prize in Choral Conducting from The American Prize Foundation in 2014.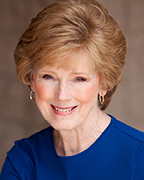 Marilyn Anderson has long been an active force in the musical environment of Ventura County as a versatile educator, director and performer.
A member of Moorpark College's music faculty since 1975, Anderson's students have been accepted with scholarships to many prestigious universities and conservatories-USC, UCLA, Oberlin Conservatory, Manhattan School of Music, Chapman University, in addition to several CSU campuses. The founding director of the long successful Moorpark Music Theater, she has directed over 50 different works from opera, operetta, and musical theater. Students from this program have gone on to contracts with professional companies, both nationally and in Europe, and have advanced to national competitions. She has received the Academic Senate President's Award, the Outstanding Faculty Award (only adjunct to receive this award,) and was honored as Champion of the Arts by the High Street Theatre Foundation.
Her commercial directing credits include The Desert Song at the Moorpark Melodrama, and music direction at The High Street Theatre (The Man of La Mancha,) and Camarillo Community Theatre (Nunsense, The Wizard of Oz, and Pippin.)
A dramatic coloratura soprano, Anderson's performance credits include a wide variety of appearances in opera and musical theater including her recent critically acclaimed performance as the Mother Abbess in Cabrillo Music Theatre's The Sound of Music for which she received the StageSceneLA award for Outstanding Performance-Featured Actor in a Musical. Operatic roles include The Queen of the Night (Die Zauberflote,) Rosalinda (Die Fledermaus,) The Mother (Amahl and the Night Visitors,) Mme. Silverklang (The Impresario,) and the Baroness in
La Vie Parisienne, among others. She has appeared as Fiona in Brigadoon, Marian Paroo in The Music Man, and also Elsa in The Sound of Music. In addition to recitals, she has been heard as soprano soloist in major oratorio works such as Mozart's Requiem, Coronation Mass and Solemn Vespers, Handel's Messiah, Poulenc's Gloria, Brahm's Requiem, Bach's St. John Passion, Mendelssohn's Elijah, Beethoven's Chorale Fantasia, and Britten's Ceremony of  Carols. She has appeared with the Los Robles Master Chorale numerous times, both locally and in Europe, with the Moorpark Symphony Orchestra, the Conejo Symphony Orchestra, Los Angeles Music Theatre, and was heard in a televised performance of Haydn's Orgelmesse in Graz, Austria. In the United States, she has a variety of television, film and recording credits.
Anderson has also been a member of the music faculty of California Lutheran University since 1992, teaching applied voice and other classes in the vocal curriculum in addition to appearing in recital and concert.
A student of internationally renowned master teacher Elisabeth Parham, Anderson holds a Master's degree in Vocal Performance from California State University, Northridge, with additional  studies at the University of Southern California and the American Institute of Musical Studies.  She is a member of the National Association of Teachers of Singing and was elected to Pi Kappa Lambda Music Honorary.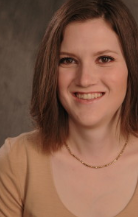 Stephanie Astonis a committed performer of contemporary music. Called "fearless" in her pursuit of repertoire by Steve Schick, she has participated in numerous American and world premiers, including Luigi Nono's Guai ai Gelidi Mostri, Michael Gordon's What to Wear, and George Aperghis' Sextuor: L'Origine des espèces.  She has appeared on L.A. Philharmonic Green Umbrella and Chamber Music Series, wasteLAnd, (Re)Sounds at Stanford University, and at REDCAT.  Ms. Aston is an original member of Kallisti, and a founding member of  ROMP Ensemble and Accordant Commons.  She has performed with Los Angeles Philharmonic, Long Beach Opera, The Industry, Red Fish Blue Fish, Gnarwhallaby, Chamber Cartel, 18-squared, and ad-hoc ensembles at Internationales Musikinstitut Darmstadt, Norfolk Contemporary Music Festival, UC San Diego, Stanford University, and Los Angeles.  Stephanie is an affiliated artist with San Diego New Music.  Noteworthy performances include Brian Ferneyhough's Etudes Transcendantales, John Zorn's Rituals, Jason Eckardt's Tongues, John Adams' A Flowering Tree(Kumudha), Edgard Varese' Offrandes, Igor Stravinsky's Les Noces, and Alberto Ginastera's Cantata Para America Magica. Ms. Aston holds a D.M.A. from University of California San Diego, an M.F.A. from California Institute of the Arts, and a B.M. from University of North Texas and currently teaches at Moorpark College.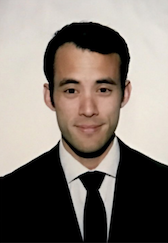 New Orleans native David Castillo resides as an inaugural Company Member of The Industry. His relationship with The Industry began in several workshops through their First Take series and continued as the mad doctor Jameson in Hopscotch, Buck Barrow in McIntosh/Rice'sBonnie and Clyde, Ludovico in Sharon/Brecht's Galileo, and the Walt Disney Concert Hall performance installation of Steiger/Sharon's Nimbus. 
As a soloist with the Los Angeles Philharmonic, he performed in Elkhanah Pulitzer's production of Bernstein's MASS with Gustavo Dudamel, a production that led to David's Lincoln Center debut at the Mostly Mozart Festival with Louis Langrée.  He also performed the LA Phil world premieres of Louis Andriessen's Theatre of the World and Annie Gosfield and Yuval Sharon's War of the Worlds, a co-production with The Industry starring Sigourney Weaver.  Other LA Phil + Yuval productions include John Cage's Europeras 1 & 2 and covering Ryan McKinny as the Singer/Actor in Night and Dreams: A Schubert & Beckett Recital.
David also collaborated on world premieres with LA Opera (and later in his Off-Broadway debut) as Atzuko in Guerrerio's ¡Figaro! (90210), the LA Master Chorale as King David in Kirchner's Songs of Ascent, the LA Grand Ensemble as Merlin in Juan J. Colomer's Dulcinea XL,Boston Court for Parola's Hélas, the USC Fischer Museum in Parola's infinite self, and Loyola New Orleans in Skelton's Letters to Santa.
Highlights from recent seasons include The Cleveland Orchestra in Debussy's Pélleas et Mélisande with Franz Welser-Möst and Yuval Sharon, with the Long Beach Opera in Rodríguez's Frida, and a return to the New Orleans Opera in Bizet's Carmen with fellow New Orleanian Bryan Hymel as Don José.  He performed many Bach Cantatas with the Horizon Music Group and Christian Campos.  David and pianist François Chouchan performed Schubert's Winterreise in Paris, New Orleans, and Los Angeles.
In the dance world, David partnered with Luminario Ballet for a danced production of Winterreise, the American Contemporary Ballet in Le Fate In Italia, and Mojacar Flamenco for Romance Sonambulo.  He joined choreographer Jay Carlon for his residency at the LA Dance Project as Narrator and Co-Producer of FLEX, a work discovering the Filipino-American narrative.
As a producer, David created Seven Deadly Sins, a show that immerses audiences into the sensory intersection of the musical, culinary, movement, visual, and mixology arts.  He also produced Innervisions:revisited and produces William Nedved and Kentaro Kameyama's The Passion of McQueen, also performing as Lee "Alexander" McQueen.
His discography includes Louis Andriessen's Theatre of the World with the Los Angeles Philharmonic on Nonesuch Records, Hopscotch on The Industry Records, and the Double-CD release of David Rosenboom's Deviant Resonances on Ravello Records.
Castillo graduated with honors both from USC Thornton School of Music with a Master of Music under Rod Gilfry and from Loyola University New Orleans with a Bachelor of Music under the late Philip Frohnmayer.  While at Loyola, David made his professional operatic debut with the New Orleans Opera in Verdi's Il Trovatore and performed with the Louisiana Philharmonic Orchestra in Gilbert and Sullivan's HMS Pinafore.   On screen, he appeared on America's Got Talent and in commercials for Dyson, Heineken, and PicBot.  David serves as an Adjunct Faculty at Moorpark College.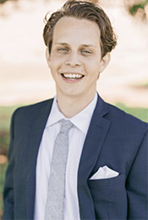 Marcus Klotz is a tenor, music educator, and conductor. He has recently served as faculty at Pepperdine University, teaching and conducting the Concert Choir. Formerly, Klotz served as a faculty member of the Bob Cole Conservatory of Music at CSU Long Beach where he directed the university's treble chorus Bel Canto, and served as the assistant conductor of the Bob Cole Chamber Choir, winners of the Choir of the World Eisteddfod in Llangollen Wales (2016) and Spittal Choral Competition in Austria (2017). 
Klotz has appeared with local opera companies such Pasadena Opera Guild, Palm Springs Opera Guild and Opera Buffs Inc. singing in opera galas, showcases and productions. Klotz sang the role of Rodolfo in Puccini's La Bohème with the Pasadena Opera Guild. Abroad, Klotz has appeared on a variety of stages, including Smetana Hall where he was a soloist in the Prague Proms performance of Carl Orff's Carmina Burana alongside the Czech National Symphony. At CSU Long Beach, he was the tenor soloist in the university's performance of Beethoven's Symphony No. 9. He has studied with exemplary artists such as Vittorio Grigolo, Vladimir Chernov and Stephanie Blythe. 
Professor Klotz holds a Master of Music degree in Choral Conducting from CSU Long Beach and Bachelor of Arts degrees in Music Education and Vocal Performance from Pepperdine University. He also serves as the choir director at Calvary Community Church in Westlake Village.

Kevin Su Fukagawa enjoys playing piano in a wide range of situations. Among the various playing opportunities that Kevin is involved with, Moorpark College and Thousand Oaks High School are two programs where he finds himself collaborating with vocalists and instrumentalists.  At Moorpark College, Kevin works with the Concert Choir, Vocal Ensemble, Fundamental Vocal Techniques, Advanced Vocal Development, and works directly with students in the Applied Voice program.  On the weekends, Kevin gets to play at a local church and jazz in Santa Barbara. Kevin received a Bachelor of Music in Jazz and Contemporary Media from Eastman School of Music (2004) and a Masters of Fine Arts in Jazz Studies from California Institute of the Arts (2007).   
Choral & Vocal Program Interns
The Choral & Vocal Program is assisted by student interns trained to handle a variety of tasks to assist students, faculty, and staff.  These students are committed to helping students and the overall MCCV program thrive!
The Choral & Vocal Program Office is staffed Monday through Thursday from 12:00 - 6:00 p.m.  You may reach the MCCV office by calling (805) 553-4912, or email at mcchoralvocalstu@vcccd.edu.  Current students may also drop in the MCCV Zoom Room.  Please reference your syllabus or Canvas page for the Zoom link.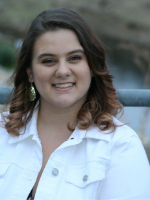 Sara is a music major at Moorpark College with an emphasis in voice. She aspires to transfer with her AA-T in music to a CSU wherein she will learn to become a music educator. This is her last semester as an intern for the choral and vocal program, and she describes her experience as one of a kind. Sara has learned more about managing a music program in her time as an intern than she has in all of her years of pursuing music. Moorpark college provided numerous growing opportunities for Sara including but not limited to solos, conducting opportunities, student directing, and the internship.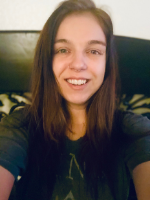 Capri Corwin is a Music Major at Moorpark College with a voice emphasis.  She is in her 3rd semester being an intern for the music program, and loves every minute of it. Capri feels that her integrity, responsibility, and capacity has grown by being an intern. She also really enjoys assisting her classmates with questions, concerns, and important information about the semester! Capri's goal in life is to get her Bachelors in Music Education, and to sing and perform everywhere she possibly can!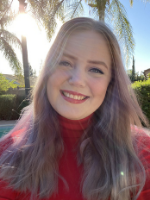 Rachel is a music major with a voice emphasis at Moorpark College. She hopes to transfer to a 4 year institution and receive her degree in Music Education. This is Rachel's third semester as an intern, and she describes her time in the internship as one of the most influential experiences in her academic journey. In addition to the internship, Rachel is also a student co-director of Contemporary Vocal Ensemble and the soprano section leader in Concert Choir. Her favorite memory from her time in the Choral & Vocal Program is when she sang the solo for Beethoven's 9th Symphony.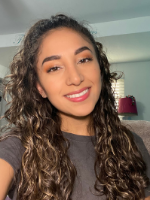 Emily Hernandez is a music major with a voice emphasis at Moorpark College. She hopes to transfer to a 4 year university to continue her studies in Music. This is her first year in the internship and she is excited to learn what it takes to run a music program. She is also part of the leadership team on the Moorpark College Spirit Team.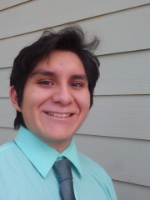 Luis is a Music Major with an emphasis in voice. His role as Tenor section leader has led him on a road more focused on leadership, solos, and community building. He has achieved the outstanding Tenor award at Thousand Oaks high school and was selected for a Music Convocation award at Moorpark College.