Women's HERstory
Women's History Month, which we refer to here at Moorpark as HERstory, is a celebration of women's contributions to history, culture, activism, science and to global communities. WHM has been observed annually in the month of March in the United States since 1987
Award Winning Author on Main Stage
Susan Straight @Moorpark College April 12
Our keynote speaker will discuss her new novel, the ambitious and enthralling "Mecca," is set, like nearly all her fiction, in the Inland Empire and high desert areas. The native tobacco plants, the San Jacinto range, the baked-in racism — all are seen through the eyes of the overlooked and written-off. The citrus pickers. The old Latina woman living on inherited land, scared the county will take it away. The Black boy with braids who drops his phone in front of a cop. None of them take history lightly because it's written too much of their destiny. Read the LA TIMES ARTICLE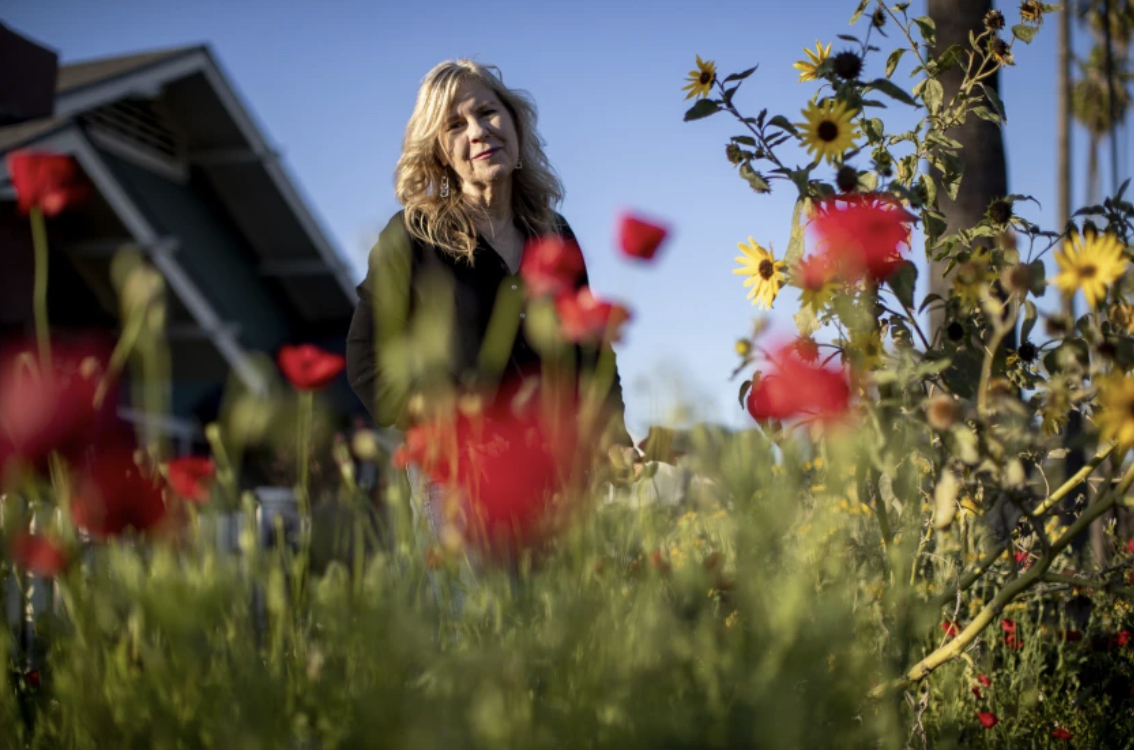 ANGIE THOMAS @MC
Born, raised, and still living in Jackson, Mississippi, Ms Thomas is a former teen rapper and holds a BFA in creative writing from Belhaven University. Her award-winning, acclaimed debut novel, The Hate U Give, is a #1 New York Times bestseller and major motion picture from Fox 2000, starring Amandla Stenberg and directed by George Tillman, Jr. Join Angie in a special Moorpark College featured ZOOM event, April 19 @1PM.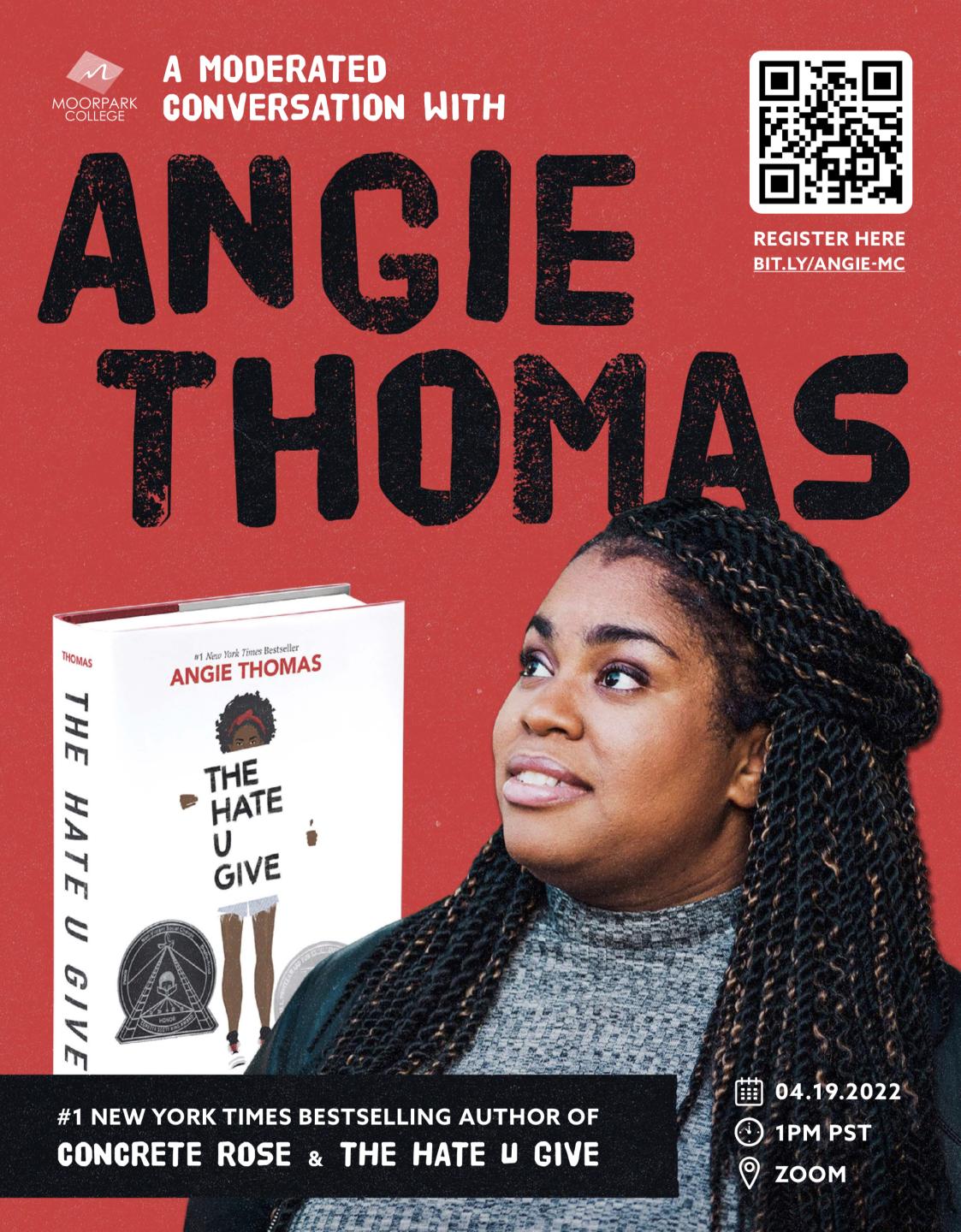 MARCH 2022 EVENTS
Friday, March 11:  12:30-1:30PM
A Talk with Local Elected Officials
Assemblywoman Jacqui Irwin, Simi Valley Councilwoman Ruth Luevanos, Board Trustees: Gabriela Torres and Dianne McKay will all share their experience as women and elected officials.  Moderated by our Interim VP of Academic Affairs, Mary Rees. ZOOM LINK
Tuesday, March 15: 1-2:30PM
"Our Bodies Ourselves:  Breaking Stigmas around Female bodies"
Film screening of 30-minute documentary: Period. End of a Sentence.
Panel discussion following the film with faculty and staff about the film and the stigmas surrounding menstruation and female bodies in our culture and other parts of the world. ZOOM LINK
Tuesday, March 16 FREE MOVIE NIGHT
Movie: TBD
Time: 7 PM
Location: Outside Cafeteria in the MC Quad
Tuesday, March 22: 3-4:00pm
Presenter: Patty Colman, History Faculty
"Building Fences and Breaking Barriers: Women Homesteaders of the Santa Monica Mountains"
The Homestead Act of 1862 allowed any citizen who was the "head of household" to make a claim on 160 acres of land. But who qualified as "head of household?" Join us for a conversation about sex, gender, and patriarchy and learn about some remarkable local women homesteaders. ZOOM LINK
A LETTER FROM DR. SOKENU
I want to remind you to celebrate the women in your lives everyday, and especially during March, Women's History Month. We take this month to acknowledge the contributions of women from all backgrounds in America and our local communities.  This is an opportunity to reflect on the courage of women from previous generations as well as now, and be motivated to continue supporting the rights of women everyday.
From its start in Manhattan in 1909 as National Women's Day to the United Nations declaring International Women's Day in 1910,  the immense impact women have had in education, STEM, the arts, medicine, government, activism and many other disciplines has shaped who we are. We are a better, smarter and more ethical nation because of the women who challenged the status quo while supporting the human capacity of those around them. We honor the trailblazers and commit to making the world a more inclusive place. 
By the time Congress declared the whole month of March as Women's History Month in 1987, there was little question as to the rights American women have earned. Our goal now is to continue to acknowledge the contributions of women worldwide and raise a generation of men and boys who respect women for their actions and elevate them for their genius and humanity. 
Commemorate with us, study, encourage, and observe the vital role of women in American history, in world history, this month and always. Happy Women's HERstory Month!