Welcome to the Moorpark College Career Transfer Center.
Throughout the year, the Career Transfer Center hosts several events.

UPCOMING EVENTS:

ACTIVITIES:
Career Week - MARCH 2nd - MARCH 5th, 2020 (Career & Internship Expo, Industry Panels, CTE Middle School Day, & CTE High School Day)
Career & Internship Expo - Occurs during the Spring semester (March 3, 2020)
Workshops for Careers
Workshops for University Applications
Common Application login assistance
University/College Fairs
University Representative Appointments & Workshops
Transfer Day (August 29, 2019-Raider Walk)
Transfer Social-May 7, 2020 from 10:00am-1:00pm QUAD
STUDENTS:
At the end of Spring Semester our annual Transfer Social takes place! This event takes place typically in May for all students to celebrate students who are transferring to universities. The Social takes place on Raider Walk & the Quad and is a great opportunity to meet with university representatives and network with other students who are transferring as well. This year the event is scheduled for May 7, 2020 at the QUAD!
* Transfer Day
The Career Transfer Center hosts a campus Transfer Day during the Fall Semester out on Raider Walk. This event provides students the opportunity to meet University & College Representatives, inquire about educational opportunities available at their respective campuses, and learn about college programs and services available at participating college campuses. Check back for announcements about this event.
* Major Awareness
There are numerous majors and programs to choose from. Throughout the Fall Semester Moorpark College has workshops and various speakers to guide you through the process of choosing a major. Disciplines and special programs available on campus are highlighted at booths for you to explore. Keep your eyes open for Major Awareness!
* Career Week (Spring 2020)
Career Week is a week-long event intended to bring Moorpark College students and employers together for informative discussions regarding career paths, as well as introducing middle school and high school students to the academic and career options available. Students will discover and explore career paths, while connecting with industry professionals and recruiters.
Upcoming Events for Community College Students

ROADTRIP TO CAREERS!

Align your interests to a fulfilling career for free with Moorpark College's subscription to Roadmap to Careers!
Discover how the things you like can connect you to a rewarding career you'll love. Drawing from
Roadtrip Nation's library of thousands of candid video interviews with professionals from all walks of
life, Roadmap to Careers showcases real stories of the struggles and successes you might encounter
on your road to a fulfilling career - and equips you with the tools you'll need to take your first steps
to build a livelihood that's true to who you are.
Instructions for how students can access Roadmap to Careers are below.
Getting Started – Student Access
1. Visit https://roadtripnation.com/edu/mc
2. Click either"Get started" or "Create Account" in the top right corner (Make sure it is for Moorpark College)
3. After clicking "Create Account," fill out required information
4. Create a username & password
5. Use your school email address
6. Complete membership information (enter membership code specific for MC students). This is where you will gain full access to career exploration tools and leader videos!
7. Click "Go!" so that the membership code is processed to your account.
Recommended Videos to Start With
Zaria Forman
Artist & Climate Change Activist
http://roadtripnation.com/leader/zaria-forman
Father Greg Boyle
Founder / Executive Director Homeboy Industries
http://roadtripnation.com/leader/father-greg-boyle
Jessica Santana
Co-Founder
New York On Tech
New York, NY USA
http://roadtripnation.com/leader/jessica-santana/interview
John Rodrigues
Ice Sculptor / Author
High School Dropout to Harvard
http://roadtripnation.com/leader/john-rodrigues
Mansi M. Kasliwal
Assistant Professor of Astronomy & Principal Investigator at GROWTH
California Institute of Technology
Palomar Observatory, CA USA
http://roadtripnation.com/leader/mansi-m-kasliwal/mansi-m-kasliwal-interview
Evelynn M. Hammonds
Professor, History of Science, African and African American Studies
Harvard University
http://roadtripnation.com/leader/evelynn-m-hammonds
University of California Santa Barbara
UCSB web-based opportunities with students. There are two ways students can connect with UCSB: virtual transfer appointments or webinars.
#1: Virtual Transfer Appointments
Prospective transfer students can register for individual 20-minute appointments with a Transfer Admissions Counselor to get their questions answered about applying, course transferability, TAG, TAP and more. Appointments are available on Tuesdays and Wednesdays from mid-June through mid-August. Students can check the Webinars & Online Events page to register.
#2: Transfer Webinars
UCSB offers a variety of webinars for prospective transfer students and/or counselors in June, July and August. Students can check the Webinars & Online Events page for times and to register.
UC TAP and UCSB TAG Webinar
Major-Specific Webinars: Biological Sciences, Economics and College of Engineering
UC Application Webinar
Upcoming UCLA events for prospective students & counselors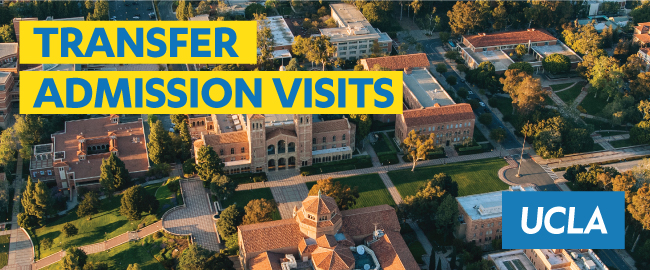 UCLA Undergraduate Admission is pleased to announce a new series of admission presentation and tours designed for prospective transfer students. Please encourage transfer students to join us at our Transfer Admission Visit, where they will have the opportunity to learn more about UCLA, the admission process for transfer students, take a campus tour, and meet staff from the Undergraduate Admission office. The session is designed primarily for students attending a CA community college and will not include transcript evaluations.

We will be hosting a transfer presentation and tour on Fridays starting in October. For a complete list of dates or to register for one of our Transfer Admission Visits, please direct students to the general events page at www.admission.ucla.edu/events.
Transfer Team
UCLA Undergraduate Admission
www.admission.ucla.edu

Go Bruins!